911 Calls Released In Scary Story Of 12-Year-Olds Stabbing Girl To Honor Fictional 'Slenderman'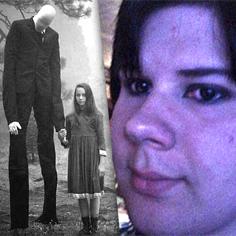 We've got the 911 calls made in the Slenderman case, which the nation talking, hitting close to home for anyone with adolescents.
As widely reported, a duo of 12-year-old girls from Waukesha, Wis., Morgan Geyser and Anissa Weier — who have been charged as adults with attempted first-degree intentional homicide — after they stabbed a peer fellow (not identified) 19 times in the woods, as an homage to the mythical online character named the Slenderman in hopes of becoming his "agents," or "proxys."
Article continues below advertisement
The girls were inspired to commit the act after learning about the fictional character on a horror site called creepypasta.com.
The Slenderman is slim, tall and fearsome man in a black suit, always on the prowl for young victims to slaughter; one of the girls, cops said, said they stabbed the girl to quiet skeptics who think he doesn't actually exist.
In the call, a passerby on a bicycle, who likely saved the victims life, told a 911 operator, "Yes, she's breathing, she says she can take shallow breaths. She's alert. There's a squad car coming now."
Watch the video on RadarOnline.com
ABC US News | ABC International News
Weier told investigators that she was morally conflicted about the gruesome act, saying that "the bad part of me wanted her to die https://radaronline.com/exclusives/2013/03/melissa-dohme-cameron-hill-stabbing-love-florida/, while he good part of me wanted her to live."
Weier did not think she'd ever return home once with the Slenderman, and brought a picture of her family to remember them by, authorities said.
Article continues below advertisement
A 15-year-old babysitter of one of the accused girls, Emily Edwards, said she saw no signs of abnormality in the two years she tended to the pre-teen.
"She was completely normal, nothing off about her," Edwards told the AP, adding that the girl's parents are "such nice people.
"She was very social, friendly, outgoing, which is what makes this whole thing so weird."
Neighbor Paul Plotkin, 44, echoed similar sentiments, calling the girl's family "good people" and "normal" and "middle-class.
"It just goes to show, no matter how hard you try to instill good morals, good values, things can still go wrong," he said.
The Geyser family this week said they "have been overwhelmed with anguish" since the surreal incident.
We'll keep you updated on the latest in this story, right here on Radar.