Jodi Arias Wears Prison Stripes & Shackles In Court, Hearing Postponed Until September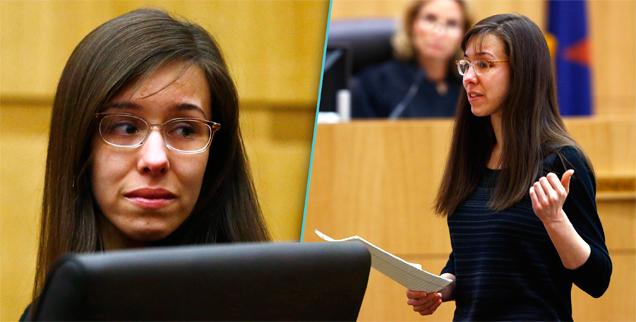 UPDATE: Jodi Arias appeared in the Arizona court on Monday morning wearing her black and white prison stripes uniform with shackles and Judge Sherry Stevens set the next hearing date for September 16.
Jodi, 34, was wearing her black hair in a bun with glasses on for her brief appearance with her lawyers.
The judge did not rule on the motions the lawyers have submitted and will address them in September.
Article continues below advertisement
***
Convicted murdered Jodi Arias will be back in court on Monday morning as the judge in her death penalty case prepares to set a date for the next phase of her trial in the murder of Travis Alexander and RadarOnline.com will be livestreaming the court proceedings that are scheduled to begin at 11:30AM ET/8:30AM PT.
Jodi was found guilty by a jury in May, but they were unable to come to a unanimous decision about her sentence and a mistrial was declared, with the state having the option to retry the penalty phase in order to win a death penalty sentence for Jodi.
Defense attorneys Kirk Nurmi and Jennifer Willmott have filed multiple motions to extend the date of the next trial into 2014, but the prosecution is pressing for a date this year.
A jury determined that shooting Travis in the face, stabbing him 29 times and slitting his throat from ear to ear was "extremely cruel" and said she is eligible for the death penalty.
Her attorneys have asked the judge not to televise the next trial and asked to be given access to the Twitter and social media accounts of any seated jurors.
They said this information would serve as a "crucial tool with which Ms. Arias can work to ensure that her jury are either not communicating about the case via Twitter or considering information that was sent to them via Twitter as opposed to what is presented to them in court."
Prosecutor Juan Martinez will return to court to potentially try and win a death penalty sentence for Jodi. If the jury is again unable to come to a decision she will be given life in prison.