Justin Bieber & Selena Gomez 'Caught Doing Lines' Of Cocaine — On Tape! — At L.A. Club: Report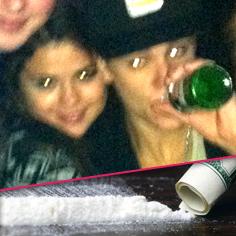 Justin Bieber's purported drug repertoire is apparently expanding from marijuana to cocaine, and he's turned on again, off-again love Selena Gomez onto it as well, insiders tell InTouch.
"They have been partying nonstop, they clearly aren't worried about their behavior," a source told InTouch about the 20-year-old "Baby" singer and 21-year-old Wizards of Waverly Place star regarding their recent romantic renaissance, which has included late nights at Los Angeles hotspots such as Bootsy Bellows and 1Oak.
Article continues below advertisement
The insider went onto tell the magazine that a secret tape is circulating of the once-wholesome stars allegedly snorting the contraband at 1Oak on June 16, and that "someone's trying to get paid for it.
"They get caught doing lines," the insider said, noting that "the video is pretty dark and fuzzy."
As we previously reported, on the following day, June 17, cops paid a visit to "Come And Get It" singer's Hidden Hills, Calif. mansion after neighbors complained of loud noises, telling the starlet to keep the volumes down.
"This time, they think Selena is going to have to hit rock bottom before she realizes Justin isn't good for her," the second source said. "She's pretty much lost most of her friends and family because of this toxic relationship – and she still doesn't care.
"This road she's taking . . . it's all just so scary."