Katy Perry Dishes On Bad Boy Exes John Mayer & Russell Brand — 'It's Like Digging Up An Old Grave!'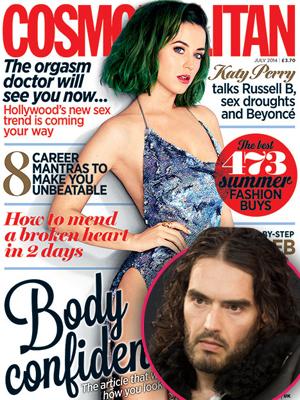 There's no denying Katy Perry has endured her fair share of heartbreak in recent years. Following her ill-fated marriage to Russell Brand in 2011, Perry began a two-year, on-and-off fling with fellow musician (and infamous womanizer) John Mayer that ended amid rumors of his cheating in February. Now, RadarOnline.com has learned, she's finally ready to talk about what she's learned from the messy splits.
Article continues below advertisement
The 29-year-old "Birthday" singer sat down with raunchy comedienne and author Chelsea Handler to discuss her high-profile relationships for the July Issue of Cosmopolitan, in which Perry joked, "I guess I happen to be attracted to high-frequency men."
So what did Perry have to say about the boys? When pressed about Brand, Katy told the mag that she ultimately had learned a lot from the relationship.
"It feels like a hundred lifetimes ago, so it's like digging up an old grave. A lot of therapy has happened and a lot of understanding and growth," Perry explained. "Sometimes you have to go through all this s--t to get your grips on life and figure out what the next boundaries in your love life are going to be. You have to go through the mud in order to find that peaceful place. In the long run, it was necessary for me to have more of a teammate."
Article continues below advertisement
Not holding back, Perry went on to reveal her feelings toward Mayer, revealing that she is "living in the now and not fantasizing about the future or being torn up about the past."
She added, "I have a lot of respect for John still, and I know it goes both ways. There's no bad blood, but I'm sure there will be inspired songs."
Despite Perry's much discussed relationship woes, the singer admitted that she is almost always in a relationship. When asked how long she had gone without sex, the pop star revealed, "May six months or a year. I don't stay single for long."