Flirt Alert! Katy Perry Moving On From John Mayer With EDM Star Diplo At Coachella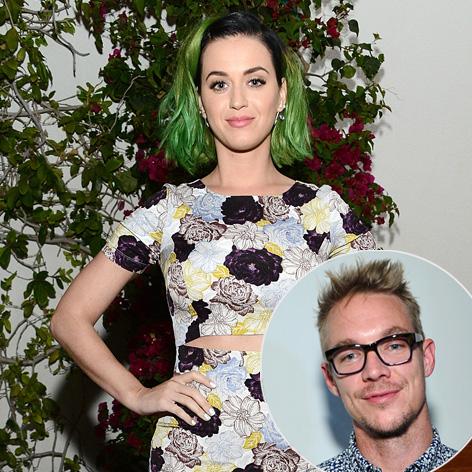 Some come to the Coachella for the concerts; others, for the parties; and some, for romance. Katy Perry got a taste of all three this weekend when she was spotted getting touchy-feely and flirty with her long-time friend and producing partner, Diplo!
The EDM star "was hanging out with Katy pretty much the whole night" at the Jeremy Scott and Adidas party in Palm Springs on Saturday night. And while one source insists, "They've been friends forever," an eyewitness tells Radar, and "It definitely looked like more than than that! At one point he even had his arms around her."
Article continues below advertisement
In fact, after one female fan got too close to the DJ, born Thomas Wesley Pentz, posing for several pics and hanging all over him, "Katy had the girl thrown out!" the source claims. "She was yelling and kind of upset about it. The girl didn't have a wristband and was a total sloppy party crasher, but still, it was kind of surprising."
The next day, Perry and Diplo were a duo again at the Polo Grounds for Sunday night's lineup of concerts, where they were spotted backstage at the Krewella performance and also checking out Lana del Rey's show before leaving together.
Before Diplo's arrival on Saturday night, Perry had been spotted solo at the The Music Lounge at Ingleside Inn in Palm Springs on Friday afternoon. Hanging out quietly with friends on a lounger in the shade, "She was pretty low-key, and seemed really relaxed," an onlooker tells Radar.
Perry's been single since splitting up with ex John Mayer yet again roughly six weeks ago amid rumors he cheated via sext.
Do you think she and Diplo make a good couple or are they better off as friends? Let us know in the comments!