Exclusive
Meet The Parents! DJ Diplo Already Gushing To Parents About New GF Katy Perry: Mom Insists, 'She's Got To Be Grilled!'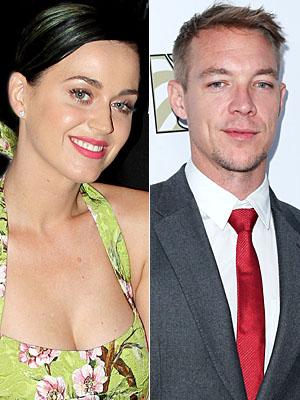 Katy Perry's rebound romance with DJ Diplo is going strong, but before it gets too serious the "Roar" singer will have to get the seal of approval from the producer's other No. 1 fan -- his mom!
In an exclusive interview with RadarOnline.com, Barbara Pentz revealed she can't wait to meet the stunning songstress. In fact, she's got big plans for their first meeting!
"He hasn't mentioned bringing her home to mama just yet. But I think he would before it gets serious," Pentz said.
Article continues below advertisement
"Of course, she's got to be grilled by the mom!" she added, with a laugh.
As first reported by RadarOnline.com, Diplo (real name Thomas Pentz) and John Mayer's ex hooked up earlier this month at Coachella and were spotted together at the Amazing Spider-Man 2 after party in New York City last week.
The high-earning DJ, who topped the Forbes list in 2012, is so enamored with the 29-year-old superstar he's already opened up about his new love interest in a heart-to-heart with his dad — insisting he and Perry are taking it slow.
"He hasn't discussed it with me, but he did with his dad," Pentz revealed. "He said 'we're just hanging out. We're just friends right now.'"
More like, friends with benefits?
Although the pair is already taking their budding romance bicoastal, Diplo's mom isn't holding her breath for Perry to meet the parents… yet.
"I don't think it's a big deal right now. I don't think they'll be wedding bells yet," she said. "They're both doing their own things right now and on opposite coasts. He doesn't seem to be making a big deal about it."
Article continues below advertisement
In fact, when she heard about her son's new gal pal, she even found it hard to believe.
"I wondered if it was a publicity stunt. It did occur to me. They both do like the cameras," Pentz continued with a laugh.
But Perry's got nothing to worry about. She's already got the preliminary thumbs up.
"I'm okay with it," the DJ's mom said. "He's a 30-something-year-old man. He wouldn't listen to me anyway if I told him what to do!"
"He's always been a strong-willed young man ever since he was little," she said, which could make him a good match for Perry. "She's rebelling from her parents a little too, so I read."
In all, Pentz revealed, "She seems like a lovely girl."
Stay tuned to RadarOnline.com for the latest on their relationship!