Exclusive
Katy Perry's Dad Insists 'We Don't Use Our Daughter' As Tax Documents Reveal He Raked In Nearly $200K Last Year Preaching About Her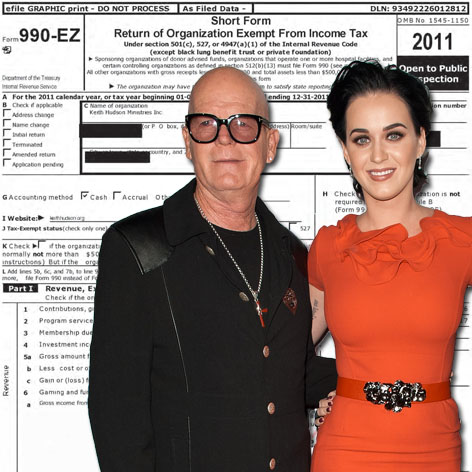 "I kissed God and I liked it!" Katy Perry's preacher father, Keith Hudson, has made a habit of shouting to his captive audiences.
A long-time minister turned traveling preacher, he's built his career in recent years through appearances around the world talking about his daughter and the path to salvation: In 2012, RadarOnline.com has learned, he and his wife, Mary, hit 15 states and 5 countries, raking in nearly $200,000.
Article continues below advertisement
Is Hudson "cashing in on his daughter's fame" while simultaneously decrying her lifestyle, or simply using the platform which he says God has provided for him? We investigate.
Tax documents obtained by RadarOnline.com show that Keith Hudson Ministries Inc. received $197,271 in revenue in 2012. From that, Hudson and his wife paid themselves a combined total of $45,369 in salary: no great amount, but substantially more than the $1 that their co-directors, Pastor Art Aragon and Rev. Roger Brewer each received.
READ THE DOCUMENT HERE : Keith Hudson's Tax Returns
As the organization's only paid employees, the Hudsons also benefitted from the more than $20,000 in travel fees covered, as well as $11,748 in mileage reimbursements for their many trips, plus cell phone plans, rent, and much more. After all of the expenses, the organization was left with just $8,015 in total profit for the year.
Over the past few years, as their daughter has become more famous, the income of both Keith Hudson Ministries as a whole, and the Hudsons in particular has grown exponentially. In in 2010, Keith earned $24,753 out of $125,231; and in 2011, he took in $32,929 out of $158,100. In 2012, Mary got a salary of her own.
Article continues below advertisement
And since their pop star daughter is a constant topic of both their sermons and self-published books, some have criticized the Hudsons for using her for financial gain.
After an appearance by the couple at Kings Road Church in London in 2011, the church's pastor, Ray Toms, admitted, "To be quite honest, one or two people in our church didn't take to them. They felt these people were cashing in on their daughter's fame."
At the same time, they've publicly bashed her lifestyle.
"I understand the burden of having a daughter or son that is not serving God," Keith has said. "When my daughter came out and sang that song, 'I kissed a girl and I liked it,' I said, 'My ministry is over.'"
According to some reports, he's even called her a "devil child," a claim which he denies.
Just a few weeks ago, Hudson spoke out to controversial conspiracy theorist and radio host Alex Jones to set the record straight on his daughter and the claims that he's exploited her fame to benefit his own coffers.
Article continues below advertisement
A preacher for more than 30 years, he says Katy's fame has only given him increased visibility. "My daughter has given us a platform," he told Jones. "I just let people know, we don't use our daughter."
And perhaps not coincidentally, as he continues to benefit from her success, he's become more understanding of her life and songs.
"I support my daughter," he insists. "...Honestly I think my daughter's song "Roar" is a very good song and it's clean. And it's not got so much bump and grind and sex and rock n roll. This is a good time. People are just wanting to see more light."
Meanwhile, it's full steam ahead for Keith Hudson Ministries. They've planned a full slate of luxurious "Arise" conferences for 2014 in Southern California and in Hawaii, where they promise attendees "volcano and rainforest tours, zip-lining, bike rentals, Kona coffee farms, snorkeling, kayak rentals and a beautiful golf course" surrounding the hotel "for your dream vacation." And for the Hudsons, of course, parishioners will foot the bill.
Last year, $22,095 in "conference expenses" was taken out of the ministry's income. In 2011, the "Arise conference expenses" for a Hawaii meet up were $16,545, and in 2010, conference expenses came in at a whopping $28,647.