Katy Perry Gets Rid Of Russell Brand Baggage, Sells $6.5 Million Hollywood Home They Bought Together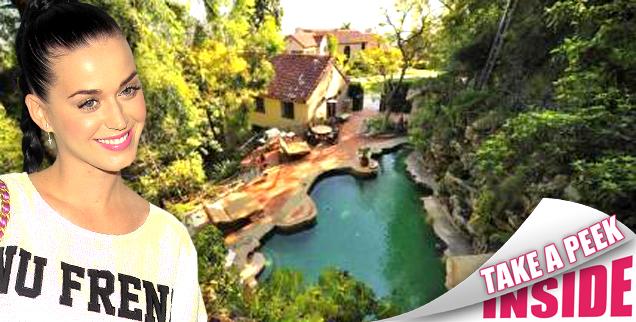 Hear her "Roar."
Katy Perry took a loss in ridding herself of the last remnant tying her to ex-husband Russell Brand, Park Hill, the West Hollywood mansion she bought with the British comedian for $6.5 million in 2011 when they were still married.
The couple split up after just 14 months and never moved into their luxurious three-story, 1920s Mediterranean style house in the Laurel Canyon area that is sometimes referred to as the DeWitt Mansion.
Article continues below advertisement
Perry, who was granted the property in the divorce, has received an unknown price for it, but the house had recently dropped to $5,988,000, and realstalker.com estimates she will lose more than $500,000 on the deal.
According to realestalker, the three acre estate includes a 8,835 square foot main house with seven bedrooms, seven full and four half bathrooms, a double height living room with city views and a formal dining room with a hand-stenciled honeycomb pattern ceiling treatment.
The property also includes a detached garage, pool house, and, on the hillside above the lagoon-style swimming pool, a one-bedroom and one bathroom guest house with a separate entrance.
Perry, who's now making romantic music with boyfriend John Mayer decided to buy an $11.2 million Hollywood Hills residence instead of living on the estate she was supposed to share with Brand. Their divorce was final in 2012.