Exclusive
Sexual Harassment Lawsuit Filed By Former Employee At Justin Timberlake's NYC Restaurant Secretly Settled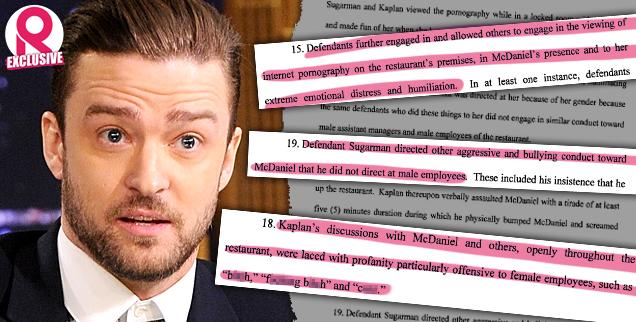 Article continues below advertisement
READ: Justin Timberlake Settles Sexual Harassment Lawsuit
After just three months at the restaurant, McDaniel claims she was made General Manager at a salary of $75,000 but was immediately met with sexism, particularly from co-owner Eytan Sugarman, who "vociferously made his disdain for female managers known," the lawsuit stated.
McDaniels claims employees engaged in inappropriate things while on the premise of the venue and one time Sugarman and another co-owner, Ronnie Kaplan, "viewed pornography while in a locked room with McDaniel, and made fun of her when she began crying about what she was being subjected to."
Kaplan allegedly "verbally assaulted McDaniel with a tirade of at least five minutes duration during which he physically bumped McDaniel and screamed and spit in her face," the lawsuit claimed of another incident.
Although Timberlake, 33, is named in the lawsuit as an "owner, shareholder or member of SHX and/or an executive responsible for the operation and supervision of Southern Hospitality," his rep released a statement after the lawsuit was filed saying:
Article continues below advertisement
"While Justin and Trace Ayala continue their friendship with Eytan Sugarman who owns Southern Hospitality, they are not investors, owners, or partners, nor do they have any knowledge of or involvement in the operations of the restaurant."
However, Timberlake was never dismissed from the lawsuit over the years and he even filed documents asking for a protection order in 2013, to make sure certain things were confidential in regards to filings he made in the legal battle.
According to the Supreme Court in New York, the case was slated to head to trial shortly — but was settled on June 4 before the trial could begin.
The case was dismissed by McDaniel per a confidential settlement sealed in the court.