Lesbian Golf Coach Awarded $359,000 After Judge Finds Men's Pro Golfer & University Guilty Of Bigotry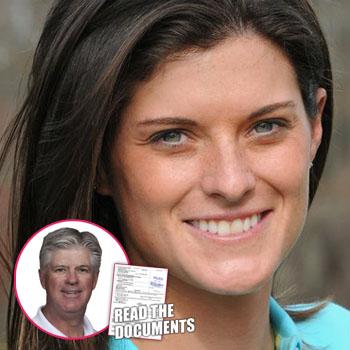 Professional golfer Katie Brenny was awarded $359,000 this week from a Minnesota judge after he ruled overwhelmingly that the 33-year-old had been sexually discriminated against while serving as head coach of the women's golf team at the University of Minnesota.
The victory came three years after Brenny's original lawsuit was filed and stemmed from accusations made against John Harris — a 61-year-old pro golfer who played on the PGA Tour and the Champions Tour — the man who hired Brenny in 2010, but almost immediately demoted her and tried to make her quit after finding out she was a lesbian.
Article continues below advertisement
"Harris represented to Brenny that the position was a head coaching position and would involve traveling, recruiting, instruction and all coaching responsibilities," the court documents read, noting it was a job description identical to that of the head men's golf coach.
According to the testimony and findings, the head coaching position was available because the school's golf Direction of Instruction, Ernie Rose, had suggested to Harris that the current coach, Kris Wessinger, "lacked golf specific expertise and was better at mentoring and managing student athletes" and should ultimately be demoted.
Article continues below advertisement
Rose is Harris's son-in-law and acquired his position at the university because of his father-in-law — despite him not meeting the school's employment requirement of being a college graduate.
Rose had also served at Harris's caddie for three years while he toured.
Brenny's interview for the position was described as a "home run" although it was made clear that neither Harris nor Rose was aware of her sexual orientation.
Wessinger would later testify that she had a phone conversation with Rose after Brenny was hired in which he indicated "the decision came down to two candidates, one who was 50 and the other was in her 30's. Brenny was the younger candidate," the ruling states.
"During the conversation, the issue of the older candidate's sexual orientation came up. The older candidate is a lesbian. Significantly, Wessinger informed Rose that Brenny is also a lesbian."
Article continues below advertisement
Brenny began her employment at the university on Aug. 30, 2010 and felt she was being discriminated against almost immediately.
"On August 31, 2010, Carlson, the Associate Head Coach for Men, rather than Harris, informed Brenny that she would not travel with the women's golf team to the first tournament of the year in Charleston, South Carolina. Instead, she was told she would have to remain in Minnesota to help with the men's Gopher Invitational tournament in Spring Hill," the documents state.
"Carlson, the Men's golf coach, testified that he also learned about Brenny's sexual orientation from Rose. He was not surprised to hear it from Rose because that was the sort of thing, according to Carlson, that Rose liked to talk about. Carlson's testimony was consistent with Rose's testimony when he admitted to telling a number of male and female players on the team a joke that demeaned and ridiculed individuals who are gay. The joke's punch line involved Rose mocking a gay or lesbian individual."
Article continues below advertisement
You Can Sue For That? The 53 Wackiest Lawsuits
Harris continued to demote Brenny from her original coaching duties, eventually instructing her to no longer talk to the women about golf, but instead she should talk to them only about "boys, life, and school."
Instead of quitting — and after discovering that Harris and Rose had learned her sexual orientation — Brenny tried to turn down the school's severance offer but was told if she stayed she would be employed to a job selling football tickets at the school's stadium.
Horrible Bosses! Hollywood's Assistants Reveal The Outrageous Demands Of Their Honchos
Brenny quit and filed the lawsuit.
Judge Sipkins' ruling found that both Harris and Rose weren't credible in their testimony and were even described as "not a truthful individual" -- but Harris was ultimately dropped as a defendant when he resigned from his position at the university and The Board of Regents of the University of Minnesota was left as the sole defendant.
Article continues below advertisement
Sipkins awarded Brenny $334,000 for lost wages and $25,000 for mental anguish. She can also seek to recover her attorney fees.
The Craziest & Most Outrageous Celebrity Rumors — What's True, What's Not?
Brenny moved to New York with her partner and is now the Manager of Special Projects & Outcomes at The First Tee girl's golf school in NYC.
UPDATE 10:30 AM -- When reached for comment Brenny told Radar: "I'm very grateful for the judge's ability to discern the truth. This is a win for me, but it's become much more than that – it's a victory for everyone who believes in equality. Hopefully, my experience and this lawsuit will help others by serving as a deterrent for discrimination in the future."
She continued, "With this win, it's clear that we are moving forward. Three and a half years was a long time to wait. I persevered because I was surrounded by my incredible family, friends, colleagues and my relentless legal team along the way."