Exclusive
$60M Legal Battle Against Tori Spelling & Dean McDermott Wages On -- Read The Damning Emails The Plaintiffs Say Prove Their TV Idea Was Stolen!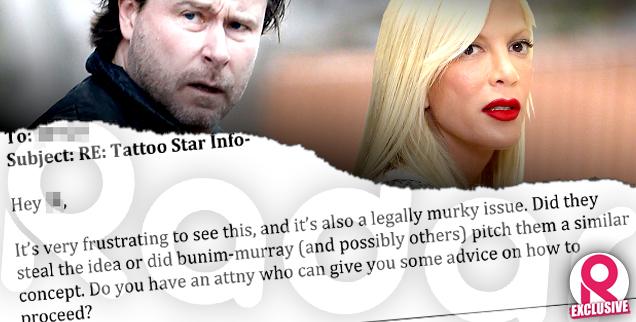 It looked as though Tori Spelling and Dean McDermott had quietly settled a lawsuit in which they were being sued for $60 million for allegedly stealing a reality TV show idea, but the Plaintiffs then claimed the settlement should be dismissed because the mediation was full of "illegalities and frauds."
RadarOnline.com has exclusively obtained email correspondence between the Plaintiffs and Spelling and McDermott's team that they claim prove their idea was stolen.
Article continues below advertisement
EXCLUSIVE DOCUMENTS: Plaintiffs Claim Emails Prove Tori & Dean Stole Their Idea — Read Them Here!
The emails span between 2008 and 2010 and discuss the Plaintiffs' idea for a show called Wedding Rescue with Tori Spelling, which Spelling and McDermott's production company, Life in a Bowl, would later turn into 2011's sTORIbook Weddings on Oxygen.
"I finally have a reply back from Dean on behalf of himself and Tori and they are interested in the project," one of the emails from their team to the Plaintiff reads.
"Dean says that he is willing to call you but he is so jammed up with things at the moment in L.A., that he doesn't know when he will get back to you."
As RadarOnline.com previously reported, the Plaintiffs alleged in the lawsuit that they came up with a show idea called Wedding Rescue in 2007 that would star Spelling and McDermott, and after their idea was filed with the Writers Guild they pitched it to an Oxygen exec and the couple themselves. All parties passed on the project, but then produced the eerily similar sTORIbook Weddings just four years later.
MORE ON:
Celebrity Justice
Article continues below advertisement
By 2009 it looked like Spelling and McDermott's team were in discussions over the wedding show ideas.
"Heard rumblings that Tori and Dean may want to renegotiate for the Wedding version… claiming it is different than the Makeover show (or to preserve the Makeover as a separate idea they can retain)," one email read.
As RadarOnline.com previously reported, a settlement — of which the terms were not disclosed — was reached on Jan. 21 in the $60 million lawsuit, but a rep for the plaintiffs exclusively told RadarOnline.com that Spelling shouldn't count her chickens before they hatch, because there are purported "serious allegations" being made that could jeopardize the settlement.
"The emails from UTA, WOW, Canada Film, and Oxygen proving they entered into an implied of fact contract with us and that Tori and Dean had expressed interest in wanting to do Wedding Rescue," the Plaintiffs' rep told RadarOnline.com.
RadarOnline.com reached out to Spelling and McDermott for comment, but got no response at the time of publication.