Exclusive
Lucky Break! Tori Spelling Settles $60M Lawsuit Over Claims She Stole The Idea For Her TV Show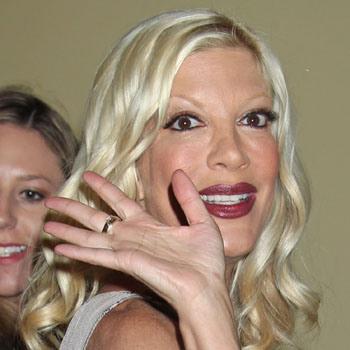 It's been a rough year so far for Tori Spelling, with her husband Dean McDermott's cheating scandal and rehab stay followed by the loss of her Sherman Oaks retail store, InvenTori. But perhaps her luck is changing: RadarOnline.com has exclusively learned that Spelling recently settled a $60 million lawsuit that had threatened to take her down once and for all!
Spelling was sued last summer by three producers who claimed that her production company and others had stolen the idea for her Oxygen reality show. After months of back and forth, the case was slated to go to trial on June 2, 2014. But Spelling and her co-defendants filed paperwork to dismiss the lawsuit in light of a settlement on January 21. The terms of the settlement were not made public, according to court documents obtained by RadarOnline.com.
Article continues below advertisement
The plaintiffs had claimed that they sent a show idea called Wedding Rescue to Spelling and McDermott's rep at United Talent Artists Agency. They even had a meeting about the show with Oxygen in 2009, but were told there was no interest.
When the show debuted, however, they claimed it was "uncannily similar" to the idea they had pitched -- so they sued.
It's a lucky break for Spelling, who recently admitted to being "broke" and was served a "pay or quit" notice at her L.A. rental in January. As RadarOnline.com has reported, she also recently had to close the doors of her retail shop, InvenTori, but insists it will reopen at an as-yet unnamed location.