Exclusive
Lisa Vanderpump, Boss From Hell? Former Restaurant Employee Gets Lump Sum Settlement After Slapping 'RHOBH' Star & Husband Ken Todd With $75K 'Discrimination' & 'Wrongful Termination' Lawsuit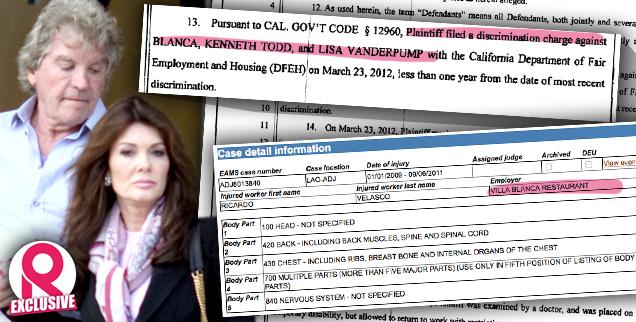 Real Housewives of Beverly Hills star Lisa Vanderpump is not just a reality TV star; she's also the owner of several restaurants in L.A., including Villa Blanca, SUR, and the new PUMP lounge. As a boss, Vanderpump Rules star Jax Taylor said, "She's very sincere and cares about my well-being." But according to another employee, it's an entirely different story when the cameras aren't rolling.
RadarOnline.com has exclusively learned that former Villa Blanca dishwasher Ricardo Velasco sued Vanderpump and her husband Ken Todd almost $75,000 in 2012, over claims of "discrimination" and "wrongful termination." Only Radar has all the details about the dirty details of the claims against the RHOBH star.
Article continues below advertisement
According to court documents exclusively obtained by Radar, Velasco was hired to work at Villa Blanca in 2009 at $9 an hour, roughly 33.5 hours per week.
READ: The Shocking Allegations Brought By One Of Lisa Vanderpump's Former Employees
"As a dishwasher, Mr. Velasco … was required to constantly stand, bend, and lift up to 50 pounds," according to the documents.
"On or around September 2, 2011," the documents state. "Mr. Velsaco injured his back when trying to lift some pots … and Mr. Velasco was permitted to leave work early for that day due to his injury."
Around September 8, 2011, he was granted "time off for three days to allow him an opportunity to see a doctor regarding his pain and discomfort," the documents claim.
He "was examined by a doctor, and was placed on temporary disability, but allowed to return to work with restrictions," the papers state. "The same day he attempted to return to work, but was prevented from working after experiencing greater pain in his back."
Article continues below advertisement
He returned to the doctor the next day, "was once again examined by the doctor, and was placed on temporary disability for over a month."
That same day, the papers claim, he went by the restaurant to notify bosses "of his pending disability or medical condition."
lawyer claimed, "When Mr. Velasco went to Defendants to provide notice of his disability leave, Mr. Velasco was abruptly terminated. … There was no attempt on the part of Defendatnts to even reasonably accommodate Mr. Velasco."
Vanderpump and Todd alleged in return that Velasco had "abandoned his employment," according to the files, but Velasco believed that he was fired because of "his physical disability or medical condition."
Accordingly, Velasco then filed a discrimination charge against Vanderpump, Todd and their company, Blanca Investments, LLC, with the California Department of Fair Employment and Housing on March 23, 2012. After receiving a notice of case closure and a right to sue letter from the organization, he filed his lawsuit on July 6, 2012, suing Vanderpump and Todd for $74,654.40 over the following claims: breach of covenant of good faith and fair ealing, disability discrimination in violation of the fair employment and housing act, failure to provide reasonable accommodation, failure to engage in a good faith interactive process, wrongful termination in violation of public policy, retaliation, willful failure to pay wages, and violations of the business and professions code.
Article continues below advertisement
Vanderpump and Todd hit back in October 2012 with their response, claiming he was fired because he "was in habitual neglect of his duty as an employee," and that making allowances for his injuries would have been "unduly costly and burdensome" for them.
A jury was scheduled for later in the summer, but on July 8, 2013, the court noted that it had been "placed off calendar" since a "notice of settlement" was filed by Velasco's attorney, who subsequently filed a request to dismiss the lawsuit, which was granted by the judge.
The terms of the settlement were not released, but it wasn't Velasco's only settlement with Vanderpump and Todd.
While the lawsuit raged on in court, he also filed a worker's comp claim against the reality TV couple October 2011, claiming that he sustained injuries to his "head," "back … including spine and spinal cord," "chest … including internal organs," and "nervous system."
READ: Velasco's Detailed Workers' Comp Claims: He Says He Hurt His Back, Spine, Chest & More!
Article continues below advertisement
On August 7, 2012, there was a hearing disposition, and a Compromise & Release settlement was reached, which means he was given a lump sum by Vanderpump and Todd. The exact sum was not made public.
Though the Velasco incident wrapped up without much fanfare, it wouldn't be the last time Vanderpump and Todd were dragged into court by a former employee. As Radar has reported, they are currently embroiled in a sexual harassment lawsuit brought by a former Villa Blanca waitress them and the Villa Blanca manager for alleged sexual harassment.
Do you think Vanderpump seems like a good boss? Why or why not? Let us know in the comments!