Cocaine, Molly & Sex That Lasted Just 'Three Seconds': Inside 'Vanderpump Rules' Stars Jax Taylor & Tom Sandoval's Wild Weekend In Miami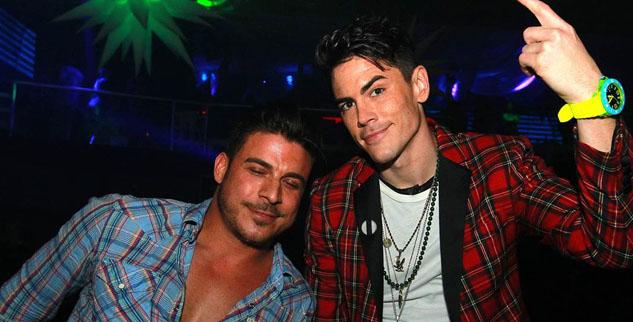 Article continues below advertisement
"We didn't know who they were, but they said they were there to do appearances," New York-based receptionist Annemarie Kunkel told the tabloid of her chance March 9 meeting with the reality TV stars.
Faked Scenes, Lies & Payoffs – The Ultimate Guide To Reality TV Shows
"In the first five minutes of meeting Jax, he told us that the was coked up out of his mind and wads freaking out about how he needs to find coke!"
Kunkel and a girlfriend of hers then went up to Taylor, 34, and Sandoval's hotel suite and then had a sushi dinner together.
"I sat next to Tom, and he told me, 'I'm kind of out of it. I took Molly,'" Kunkel told Star.
"Then I looked at the floor, and there was a bag with four Mollies that he'd dropped. And I said, 'Oh my god, you dropped your Mollies.'"
The foursome partied together at SET nightclub that night and after a stop at the Shore Club, they were back up in the boys' suite — where Kunkel and Sandoval allegedly had sex.
Article continues below advertisement
"We started making out, and he kept trying to put his hand down my pants, but I told him I didn't want to have sex because I had my period. He didn't believe me and told me to prove it," Kunkel said.
The Craziest & Most Outrageous Celebrity Rumors — What's True, What's Not?
"It was a whole 180-degree personality change. He flipped out and had this crazy, scary look in his eyes. But then he said he didn't care and we went back to his bedroom and had sex. It literally lasted for like three seconds, so I was just like, 'Thank god.' It was just one of those situations where I didn't know what to do, and I was just so freaked out."
As RadarOnline.com reported on Tuesday, Taylor broke up with his girlfriend Carmen Dickman after the trip, but Dunkel tells the magazine she was upset to learn Sandoval, 31, had a girlfriend in Ariana Madix.
"I can only imagine how Ariana feels, because she's with this guy and thinks he's so sweet," Kunkel said.
"But he's not. He is heartless."