Exclusive
'Vanderpump Rules' Star Tom Sandoval Says Ex Kristen Doute Is Lying About Secret Hookup, And Has Video Recording To Prove It!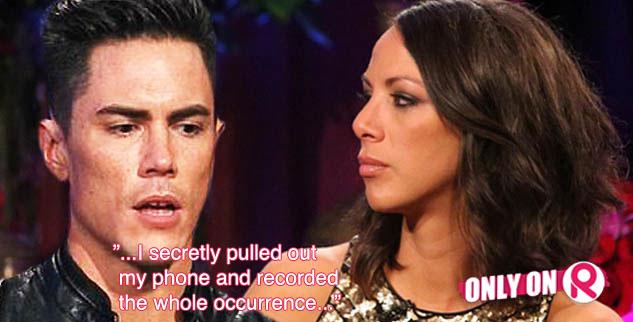 Vanderpump Rules star Tom Sandoval insists he didn't cheat on his girlfriend Ariana Madix with his ex, Kristen Doute, last month -- despite her telling a weekly magazine they kissed — and he claims to have video footage to prove it, RadarOnline.com has exclusively learned.
After it was revealed on the show's reunion show that Sandoval and Madix had been secretly dating, In Touch magazine published an interview with Doute in which she claimed the former flames "made out when we were in NYC in mid-January."
Article continues below advertisement
But Sandoval says that's not true, and in an Instagram message posted earlier this week — and then deleted, but not before Radar got a screen grab — Sandoval states Doute's claims are "absurd" and says, "I can tell you with 100% certainty that its false."
'Vanderpump Rules' Vixen Kristen Doute Goes TOPLESS For Music Video!
In fact, Sandoval claims Doute came onto him in his hotel room, and knowing it "might be an issue later" he "secretly pulled out my phone and recorded the whole occurrence. So I would have proof that I stopped anything from happening."
Sandoval also claims he immediately told his current girlfriend what had happened in the hotel room.
"As soon as I got Kristen out of my room. I called Ariana immediately to tell her what happened," he wrote.
"I also informed Kristen about this the following day, when she said she didn't remember what happened (lie)."
Sandoval's entire message can be seen below: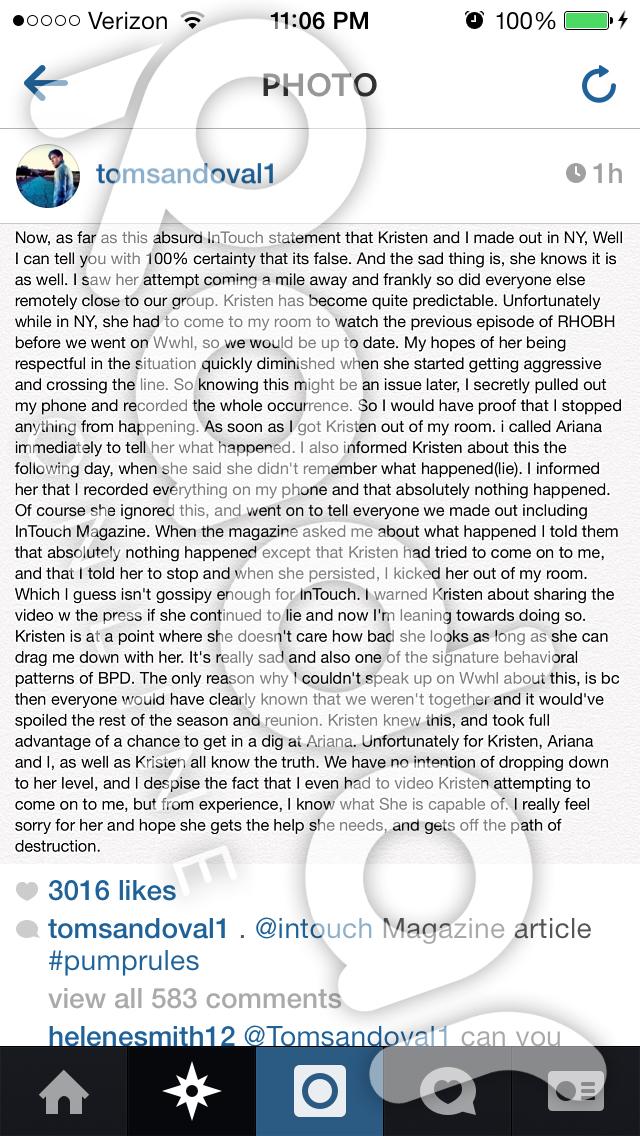 It's unclear why Sandoval later deleted his message, but chances are we'll see the video proof of what really happened somewhere soon.
"I warned Kristen about sharing the video w the press if she continued to lie and now I'm leaning towards doing so," he hinted.
"I despise the fact that I even had to video Kristen attempting to come on to me, but from experience, I know what she is capable of. I really feel sorry for her and hope she gets the help she needs, and gets off the path of destruction."
Who do you think is telling the truth — Sandoval or Doute? Sound off in the comments below…