Outrage! The Anti-Defamation League Speaks Out On Jesse James Logo Controversy: 'If Nazi Symbology Was A Source Of Inspiration, We Condemn Such Uses'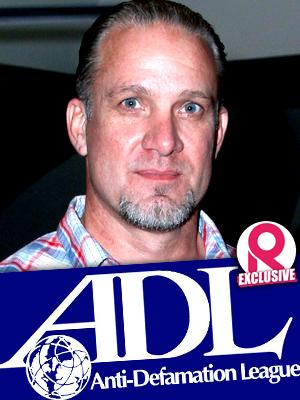 Jesse James' new West Coast Choppers logo — which as RadarOnline.com exclusively reported, shares a striking resemblance to the Nazi party's infamous Imperial Eagle — has fans up in arms. And now anti-Semitism watchdog group the Anti-Defamation League is speaking out exclusively to Radar about the controversy.
"If Nazi symbology was a source of inspiration for the logo, we condemn such uses," Mark Pitcavage, Director of Investigative Research of the Anti-Defamation League, tells Radar. "Using graphic designs derived from Nazi symbology is at best exercising very poor judgment."
Article continues below advertisement
The West Coast Choppers CEO, 45, has previously used questionable judgment when choosing his motorcycle company's graphics: James previously used a logo that resembles the Nazi party's Iron Cross.
Sandra Bullock's cheating ex-husband also was caught wearing a Nazi hat and making a "sieg heil" salute in a 2004 photo.
Though James has denied being a neo-Nazi, his estranged father, Larry, claimed in 2010 that his son had been interested in the movement as a child.
"He liked their war machines, he liked their uniforms, he liked their guns, he liked everything about them," he said.