Exclusive
Jesse James Caught In New Nazi Scandal -- New West Coast Choppers Logo Bears Disturbing Resemblance To The Iron Eagle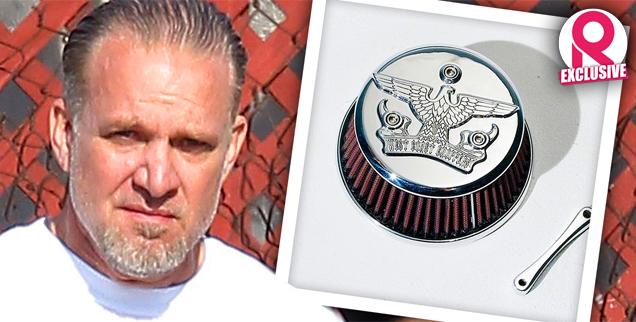 Jesse James has unveiled a shocking new West Coast Choppers logo that's sure to spark controversy because it looks like a Nazi insignia, RadarOnline.com is exclusively reporting.
The motorcycle enthusiast and ex-husband of Sandra Bullock has posted a picture of the chrome logo -- which bears a striking resemblance to the Nazi Reichsadler or Imperial Eagle used by the party between 1935 to 1945.
On James' West Coast Choppers website the logo is referred to as the 'Warbird.'
Article continues below advertisement
During James' scandalous divorce from Bullock because of his numerous alleged affairs, a photo from 2004 was famously revealed in which he was wearing a German Nazi hat, and doing a 'sieg heil' salute, while holding his fingers to his nose to imitate Adolf Hitler's mustache.
PHOTO: See James' new West Coast Choppers logo
James, 45, has also been pictured in a car with a friend wearing a similar hat and doing the same salute -- yet the father of three claims he is not racist.
"I could tell by the look on my face it was a joke that was funny then, probably for a minute, but then looking at it in the context of now and in my life, it's not funny," he told ABC News at the time.
"There's not a racist bone in my body."
But there have been numerous things linking the welding expert to the racist group; James previously used a West Coast Choppers logo which resembled the Iron Cross, another symbol used by the Nazi party.
Article continues below advertisement
James has greatly avoided the limelight since his 2010 split from Bullock, 49, and even recently posted on Instagram: "It always feels kinda good in the tornado of bullsh*t around me. People saying I did this, and I said that. Everyone claiming to know what it's really like where I'm standing.
"Meanwhile I just keep my head down and work, and work some more. Taking care of my family, and doing things the best I possibly can. It's always a serene calm in the eye of the storm."
In another worrying move, the Monster Garage host has also opened his own weapons store, Jesse James Firearms Unlimited, which produces rifles and handguns.
Describing the company online he says, "JJFU is not just a gun manufacturer. It is a sky is the limit one stop shop to create a firearm of your dreams. I'm applying the same principles I did to building handcrafted Taylor Made custom Motorcycles for the last 25 years.
Article continues below advertisement
"Giving the customer the absolute best of everything. Exceeding their expectations. That's what #JJFU is. #jessejames #MadeInTexas (at ATX)"
James, who is now married to drag racer Alexis DeJoria, has previously been defended by sources who say he doesn't have right-wing sympathies and only posed for the controversial Nazi picture for shock value.
But his estranged father claims he has long been fascinated by the Nazi movement, saying in 2010 how his son "liked their war machine, he liked their uniforms, he liked their guns, he liked everything about them."
James' former step-mother, Janina James Coan, also told Radar in 2010 that he killed baby animals when he was a teenager.
"When Jesse was about 14 or 15 years old he started killing baby rats by injecting them with alcohol," she told Radar.
"He told me it's what Dr. Mengele would do."
What do you think about Jesse's new logo -- do you think it's a nod to the Nazi party, or is it just a coincidence? Sound off in the comments below…