'I Am Hitler Reborn!' Defiant Tila Tequila Continues With Shocking Rants, Claims She's 'Mocked' & 'Rejected' Like Dictator Was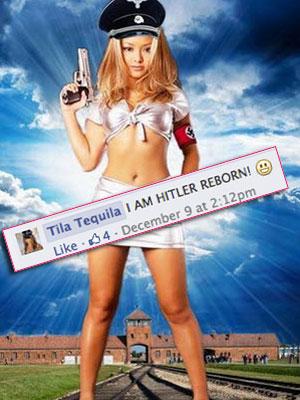 Not only does Tila Tequila continue to spark controversy with her anti-semitic rants, but the former MTV star is now claiming she is Adolf Hitler reincarnated!
On Monday Tequila posted another message to her Facebook fans, calling Hitler "a brilliant artist" who was "ahead of his time" and then said she has "the same hopes and dreams as Hitler" -- followed up by some shocking comments.
"Let me tell you all a very bittersweet story. Let's just call it: 'Karma' - So once upon a time in a land far away there was a special and sweet kid who had a dream to become a painter. He was a brilliant artist and was ahead of his time. He had hopes, and dreams just like we all do. Unfortunately, the art schools did not feel the same as he and they rejected him. Fast forward a few years later he was roughed up and bullied on top of that by the same people he once loved. His Name was Hitler," Tequila wrote.
Article continues below advertisement
"Then fast forward a few generations, there was once upon a time a young lady who also had the same hopes and dreams as Hitler did. She probably loved the Jews as much as they hated her. She still loved them. As a matter of fact, the majority of her friends were Jewish. She loved them so much and just wanted to be accepted by them that she even tried to convert to Judaism, but no.
It was still not good enough for them. They mocked her, rejected her and laughed at her through and through when all she ever did was show them her love. Her name was Tila Tequila."
While most of the comments on her post slammed the former model, Tequila didn't bat an eyelash and responded with the comment:
"I AM HITLER REBORN!" followed by a smiley face.
As RadarOnline.com previously reported, it's not the first time Tequila has mentioned Hitler — posting earlier on Dec. 9 that "Hitler was NOT as bad as he was painted out to be."
The Anti-Defamation League told RadarOnline.com in a statement: "This is clearly a person who is desperate for publicity at all costs. One minute she's a Jew, the next minute she's a Nazi.
"Who knows where she will go next. To judge by the responses to the Hitler imagery on her Facebook page, most people find it as repugnant as we do, so her public may have the final word."