OUTRAGE! Tila Tequila Hit With Backlash After Claiming Paul Walker's Death Was 'Ritualistic' Murder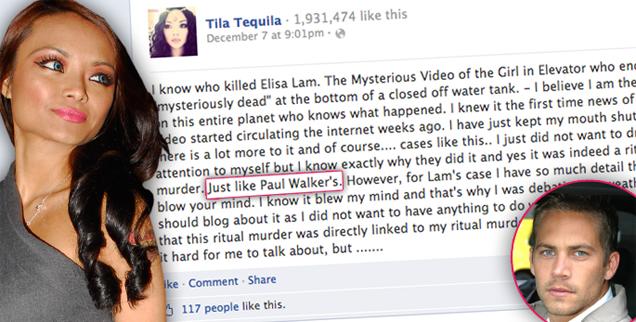 Tila Tequila ruffled a few online feathers after claiming that actor Paul Walker's death bore the signs of a "ritualistic" killing, RadarOnline.com has learned.
The former MTV star wrote in a Facebook post that she knows who killed Elisa Lam -- a 21-year-old Vancouver, British Columbia woman whose lifeless body was recovered in a water tank of a downtown Los Angeles hotel in February.
"I believe I am the only person on this entire planet who knows what happened I have just kept my mouth shut because there is a lot more to it and of course.... cases like this," Tila wrote. "I just did not want to draw any attention to myself but I know exactly why they did it and yes it was indeed a ritualistic murder. Just like Paul Walker's."
Article continues below advertisement
The thread exploded with responses, and the negative ones particularly rankled her. One named Shane Perkins suggested Tila "shut the f*** up" and that she's a "random ass f***ing E-celebrity," while a user named Mitchell Hache told the star she's "so f***ing stupid," and "can suck a mean d***, but thats about it!"
A fired-up Tila then got back on, writing, "THE ONES TELLING ME TO 'SHUT UP' ARE THE ONES HEAVILY INVOLVED IN OCCULT RITUAL SACRIFICES HERE AND THEY FEAR ME TELLING THE WORLD ABOUT HOW THEY MURDER PEOPLE RITUALISTICALLY! GO AHEAD.. LOOK AT COMMENTS... THEY ARE LITERALLY TELL ME TO 'SHUT UP' CUZ THEY DON'T WANT TO BE EXPOSED! TOO BAD ... YOU F***D WITH THE WRONG B***H NOW!"
She then wrote she had "no need to waste my time with these parasites.
"They are already dead but they don't even know it yet. Literally."
What do you make of Tila's controversial comments -- out of left field, or is there something there?