Hitler 'Was NOT As Bad As He Was Painted Out To Be': Tila Tequila Shocking Anti-Semitic Rant SLAMMED As Being 'Desperate For Publicity'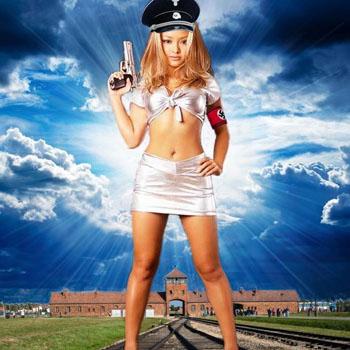 Tila Tequila continues to stir controversy and in her latest Facebook rambling the former MTV star compares herself to Adolf Hitler and asks her followers to open their eyes to the idea that he was not as bad as people portrayed him to be, and RadarOnline.com has all the details.
Tequila, 32, posted a long rant on Monday morning in which she claims hatred had blinded people from the truth — and the former reality TV star even made a music video with lyrics that are nothing but offensive to Jewish people, despite her disclaimer that "it is satire so don't get your panties in a bunch!"
Article continues below advertisement
"People, people, please listen with an open heart and mind because so many of you are filled with HATRED that it has BLINDED you from the TRUTH THAT GOD HAS TRIED TO SHOW YOU OVER & OVER YET YOU REFUSE TO BELIEVE IT! Yet you still pray and ask for God's forgiveness when you are SO VILE and UNFORGIVING towards others?" Tequila wrote on Facebook.
"I never said I hated anyone, but just because I feel sympathy, compassion, and forgiveness for others such as Hitler means I am now a monster? All for trying to open your eyes to the truth that Hitler was NOT as bad as he was painted out to be?"
Tequila posted a photo on her Facebook page claiming it's proof that "EVERY ETHNIC PERSON WAS INVOLVED IN WWII... NOT JUST GERMAN PEOPLE!"
"Blacks, Asians, Jews, Middle Easterners and so on... ALL WERE NAZIS!!! But did you ever hear about this? NO! Because the Zionist Cabal doesn't want you to know the truth but I will speak the truth for GOD since NO ONE ELSE HAS THE BALLS TO!" she wrote.
"Go ahead.. keep stoning me. You will regret it. May God Have Mercy On you all! You complain about wanting to see change in this world yet YOU STILL ACT LIKE BARBARIANS!!!! I despise the humans. God tells me to take it easy on them... but I despise most of them to be perfectly honest."
Article continues below advertisement
In Tequila's "It's Going Down" video posted on Sunday evening, she raps about the Illuminati but instead calls them the Jewluminati and repeats "Hitler no Hi Tila" over and over.
youtube=https://www.youtube.com/watch?v=EMTFpxe1dF4&w=560&h=315
Read all the lyrics here:
Chorus:
Every time you hear my name it's going down, goin' down X 4
Feeding yo mind with GMOS
while givin yo babies flo flo
not flo rida but flo ride
that sh*t that burns yo third eye
Jewluminati motherf**kers hate me
Oh no they don't wanna date me
Nor you nor you nor you too
Worldwide Genocide blame it on the jews
So now they call me a nazi
no b*tch I'm just good at yhatzee
Espionage is my middle name HA!
I got you good while rolling through yo hood
Hitler no Hi Tila
Hitler no Hit Tila
Hitler No Hi Tila
Same sh*t…
The Anti-Defamation League finds Tequila's statements distasteful and told RadarOnline.com in an exclusive statement:
"This is clearly a person who is desperate for publicity at all costs. One minute she's a Jew, the next minute she's a Nazi. Who knows where she will go next. To judge by the responses to the Hitler imagery on her Facebook page, most people find it as repugnant as we do, so her public may have the final word."
Tequila also caused outrage over the weekend by claiming that actor Paul Walker's tragic death bore the signs of a "ritualistic" killing.