Patrick Swayze's Niece Secretly Married To A Neo-Nazi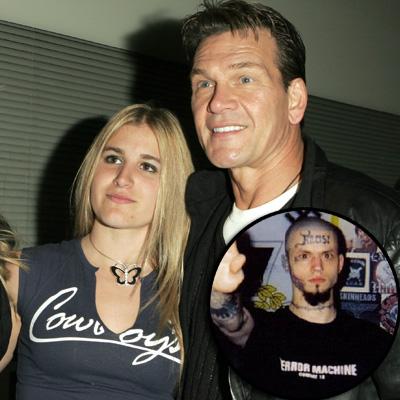 She was born into Hollywood royalty, but Danielle Swayze has shocked her family by tying the knot with a neo-Nazi who was linked to an assassination plot against President Barack Obama.
The daughter of late Dirty Dancing star Patrick Swayze's brother Don, 23-year-old Danielle secretly wed convicted felon Joshua Steever last August, the National Enquirer reported.
Heavily-tattooed 31-year-old Steever has bragged about being the leader of the Supreme White Alliance, a racist group which had members that reportedly planned to kill Obama during the 2008 presidential campaign.
Article continues below advertisement
Other disturbing claims made by Swayze's new husband -- who has the word "racist" tattooed on his forehead in huge letters and a swastika inked in the corner of his right eye -- include being the president of the Aryan Terror Brigade, and the New Jer­sey representative of the neo-Nazi group Blood & Honor USA.
Pretty blonde Danielle reportedly met her husband online and married him just days after their first face-to-face meeting at a neo-Nazi event over the summer. The couple was determined to keep their nuptials a secret, and the bride even posted a Facebook rant threatening to "extermi­nate" the "rat" who leaked the news, according to the Enquirer.
Even her dad Don, who hasn't spoken to his daughter in five years, didn't know about his new son-in-law. "I had no idea she was getting married. And let me make it clear – I would never in a million years approve of her marrying a neo-Nazi," the True Blood guest star told the magazine.
In 2005, Steever was arrested on felony aggravated assault charges in Texas, after beating someone with an ax handle, earning the nickname "Hatchet," Enquirer sources revealed. He was eventually convicted on a re­duced charge of deadly conduct.
He was arrested again in 2006 after three African- American high school students told police he pulled a knife on them and threatened to blow up Newark Memorial High School in California.
According to Alameda County court documents, Steever was charged with three separate felony counts, plus one misdemeanor charge of exhibiting a deadly weapon.
RELATED STORIES: