Exclusive
Is This The Real Reason Jennifer Lopez And Casper Smart Split? JLo Is A 'Fitness Robot' Who Had 'Nothing Else To Talk About Besides Diet And Exercise' With Casper Smart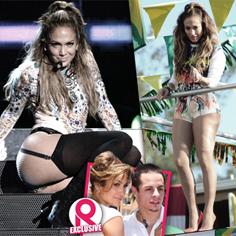 Article continues below advertisement
"Jennifer's obsession with her own body is out of control," the source said. "There's no doubt she's worked herself into the ground to achieve her killer shape."
Although Lopez is hailed as an incredibly fit forty-something, the source revealed her focus on fitness has affected those around her, especially Smart.
"In the end, Jen and Casper had nothing else to talk about except diet and exercise stuff, and that was exactly how she wanted it," the source said.
Lopez's trainer, Tracy Anderson, recently told Allure Magazine that the single mom of twins follows a portion-controlled diet and participates in rigorous 90-minute workouts.
The singer and American Idol judge told British Glamour Magazine herself earlier this year, "I've worked out my whole life and I've been incredibly disciplined when I needed to be."
Although Lopez said she sometimes wants to relax in a beach chair, she motivates herself to do otherwise.
Article continues below advertisement
"At the same time that very ambitious, determined girl inside me is like, 'Come on, let's be in the best shape ever and really show everybody.'"
The source noted, "Jen obviously looks great, but she has become a health and fitness bore and it's driving those close to her nuts."
"It's no exaggeration to say that Jen is obsessed with her body and, other than her kids, nothing else comes even close to being as important to her as staying in shape.
"Jennifer used to love talking about fashion and movies with her girlfriends, but now it's 'this cleanse,' 'that workout routine.' She's like a fitness robot who has nothing else in her life!"