Behind-The-Scenes Exclusive! 35 Scandals & Secrets From The Set Of 'American Idol'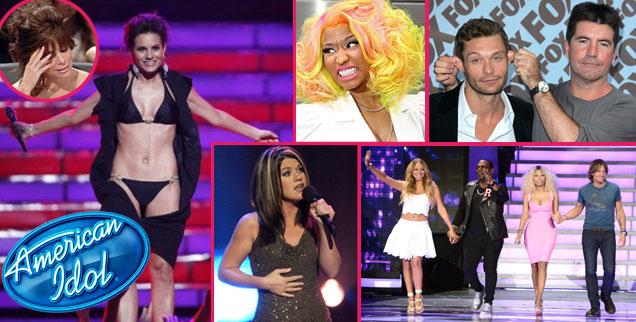 In 2002, FOX introduced American Idol, which became the highest rated reality show of all time, launched the careers of such powerhouse singers as Kelly Clarkson and Carrie Underwood, made judge Simon Cowell a household name, and spawned a host of musical TV imitators. Although Idol stumbled badly in the ratings last year, the show has been recast for season 13 with its judging panel of newcomer Harry Connick Jr. and returning Keith Urban and Jennifer Lopez. And fans can certainly expect controversies as AI show has had them every season! With AI premiering Jan. 15 and 16 on FOX, Radar reviews the show's history of secrets and scandals:
Article continues below advertisement
Mariah Carey, Randy Jackson, Nicki Minaj and Keith Urban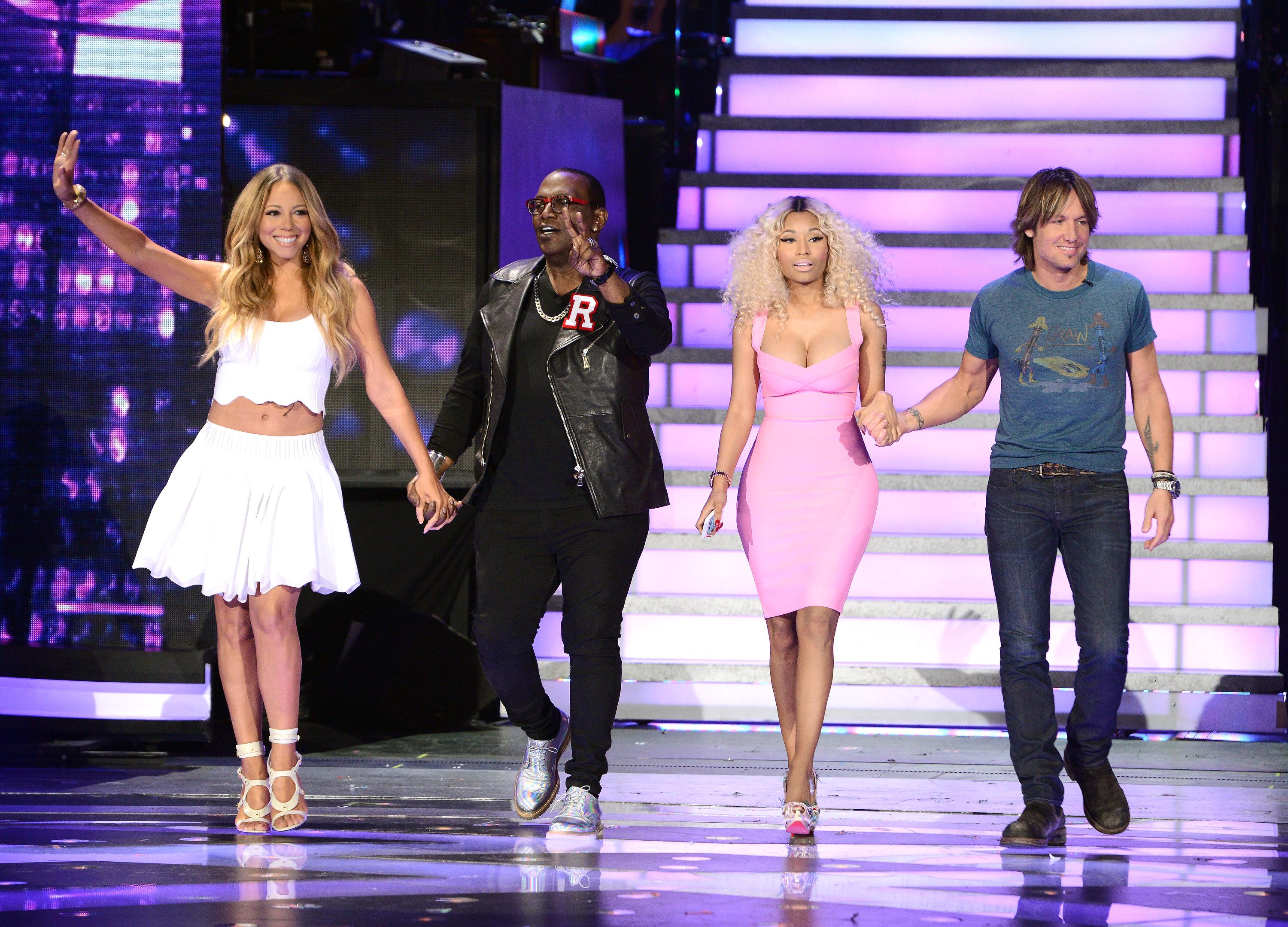 Season 12 Bombs: In 2013, the once hottest reality show on TV saw its ratings tank with a weak field of male contestants and female singers critics deemed well, I-dull! The four-person judging panel of Keith Urban, Randy Jackson, and toxically feuding divas Mariah Carey and Nicki Minaj caused viewers to tune out in droves and the season 12 finale, in which Candice Glover triumphed over Kree Harrison, saw ratings drop an incredible 33 percent from the year before! AI dumped producer Nigel Lythgoe, Carey, and Minaj and Jackson has been shifted to being a mentor instead of a judge for season 13.
Paula Abdul/Corey Clark
Corey Clark Claims He Hooked Up With Paula: Two years after he was booted off season 2, AI contestant Clark claimed he had sex with judge Paula Abdul while he was competing on the show. In May 2005, Clark told ABC's Primetime Live how Abdul allegedly coached him privately on how to succeed on the show as pillow talk! Clark produced phone records that proved he'd been talking often with Abdul. Although FOX investigated Clark's claims, the network decided Abdul wasn't guilty and she continued on the popular show through season 8.
Article continues below advertisement
Mariah Carey/Nicki Minaj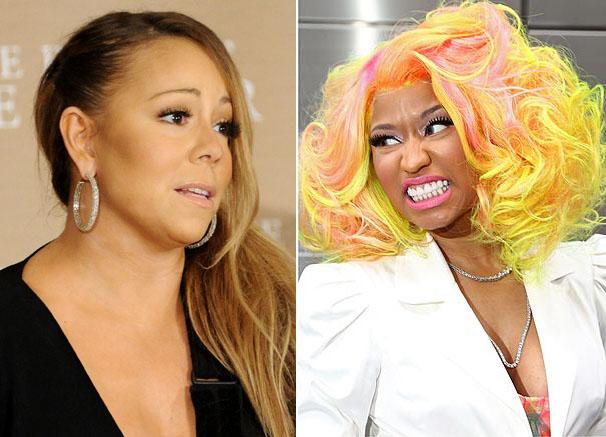 Mariah Carey/Nicki Minaj Catfight: A bitter feud between new judges Nicki Minaj and Mariah Carey took center stage during 2013's season 12 Idol. Hip hop singer Minaj openly baited her older and more acclaimed co-star. The on-camera barbs included the spectacle of Minaj disagreeing with Carey on a contestant's performance, offering her a Q-tip, and telling her, "Clean your ears out!" Minaj also called Carey "bitter" and insecure" on Twitter. The catfight ended with both getting replaced as judges for 2014. Carey has said that she "hated" her time on Idol because it was like going to work every day "in hell with Satan."
Article continues below advertisement
Ryan Seacrest and Simon Cowell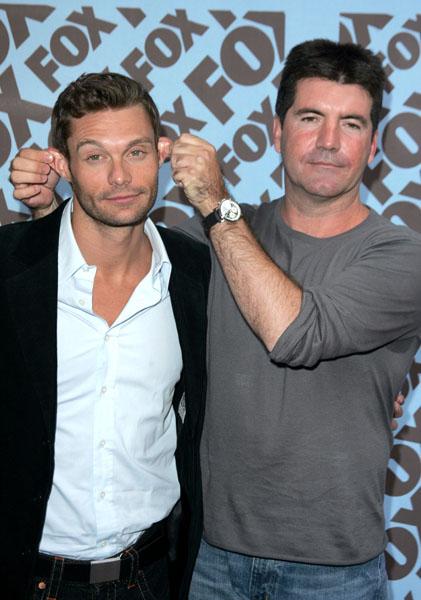 Cowell "Outs" Seacrest?: Judge Simon Cowell and host Ryan Seacrest's testy banter and gay innuendoes reached fever pitch during Idol's 6th season in 2007. When Seacrest asked Cowell for his advice to a female contestant about high heels, Cowell snapped, "You should know, Ryan!" Looking pissed, Seacrest said, "Stay out of my closet." Mr. Nasty responded, "Come out!"
Article continues below advertisement
Steven Tyler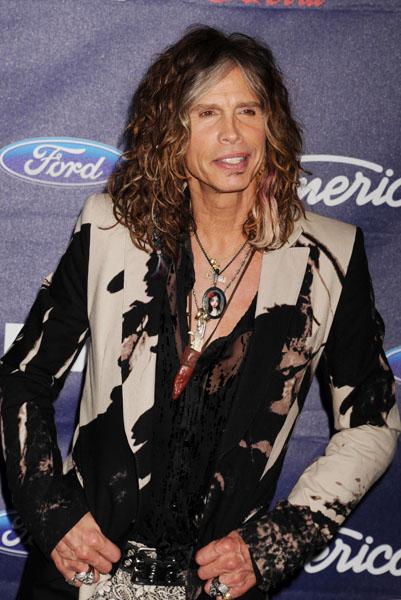 Not Such A Sweet Emotion: Aerosmith frontman Steven Tyler looked like the skeeviest judge in reality TV history when he told the father of contestant Shannon Magrane, 15, that she was "hot, humid and happening" during Idol season 11 in 2012. The creepy comment brought the audition to a halt as the playboy rocker winced and fellow judge Jennifer Lopez had to ease the tension by telling the Magranes they were a beautiful family.
Article continues below advertisement
Mariah Carey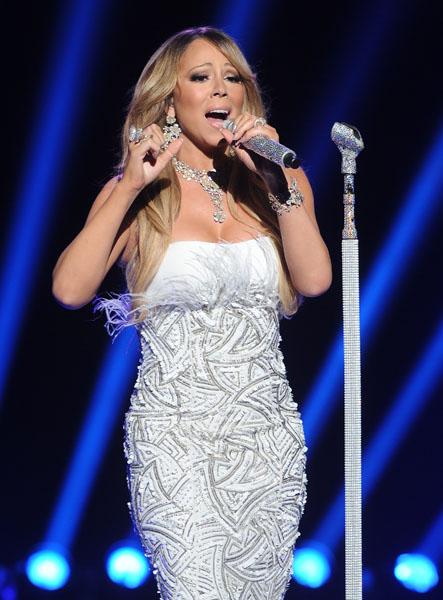 Loose Lips: Mariah Carey got bad reviews as an American Idol judge in 2013, but nothing compared to the furor after the finale, because fans had observed her allegedly lip synching! While Carey's rep denied she was lip synching her medley of hits, fans cried foul when the audio appeared not to match her singing on FOX. Twitter lit up with criticism, and one fan even wrote that Mimi was definitely lip synching "and still sounded horrible."
Article continues below advertisement
Antonella Barbara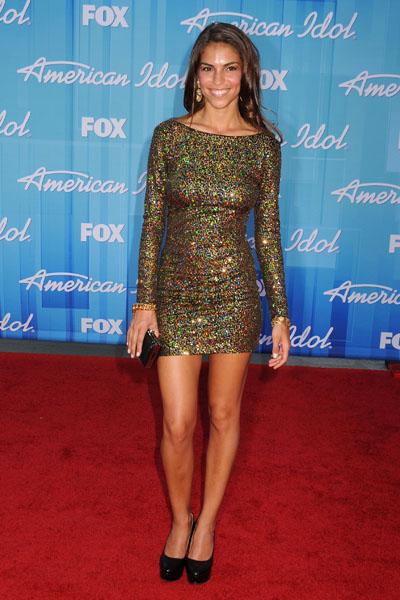 Antonella Barbra's Nude Photo Scandal: During season 6, sexy Barbra was embroiled in scandal after racy photos of the hard-partying college student posing naked and getting more than cozy with guys surfaced online. FOX allowed her to stay in the competition, however, after she claimed they were private photos that were leaked without her permission. Ultimately, Barbra was eliminated after only advancing to the Top 16.
Article continues below advertisement
Adam Lambert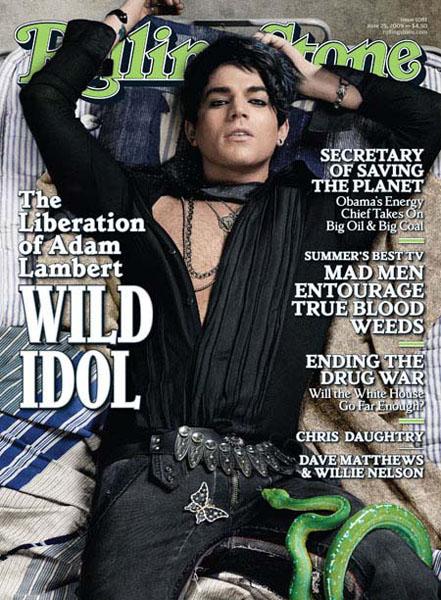 I Kissed A Guy And I Liked It! It caused a furor when internet photos surfaced of Adam Lambert, the breakout star of Idol season 8, dressed in drag and kissing another guy. Lambert, who had not revealed his sexual preference, said at the time, "This is about singing...nothing else." The popular singer, who finished second to Kris Allen, later came out as gay in a Rolling Stone magazine story.
Article continues below advertisement
Lazaro Arbos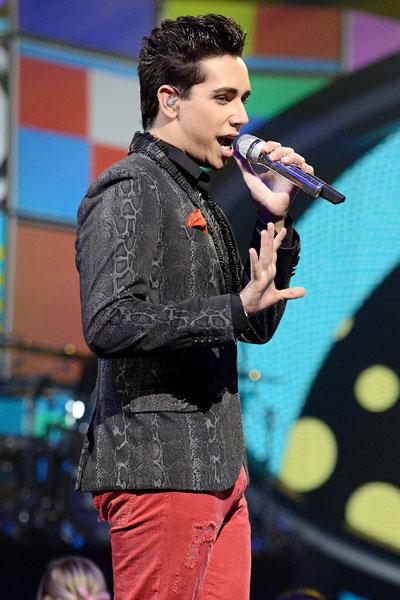 Lazaro Arbos Calls Fellow Contestant 'Crazy': Shortly after his elimination from Season 12, vocally challenged stutterer Arbos slammed a co-star on his way out the door! Arbos dished to ABC News Radio, "I'm not gonna say names and I don't wanna sound rude, but I think that one woman in particular is crazy and she wants to win! She thinks that we're in 'The Hunger Games' and she's fighting for her life." No one will ever know for sure who Arbos was talking about, but the singer, who was a close friend of Amber Holcombe, had also been competing against Candice Glover, Angie Miller, Janelle Arthur, and Kree Harrison.
Article continues below advertisement
Anthony Fedorov, Carrie Underwood and Bo Bice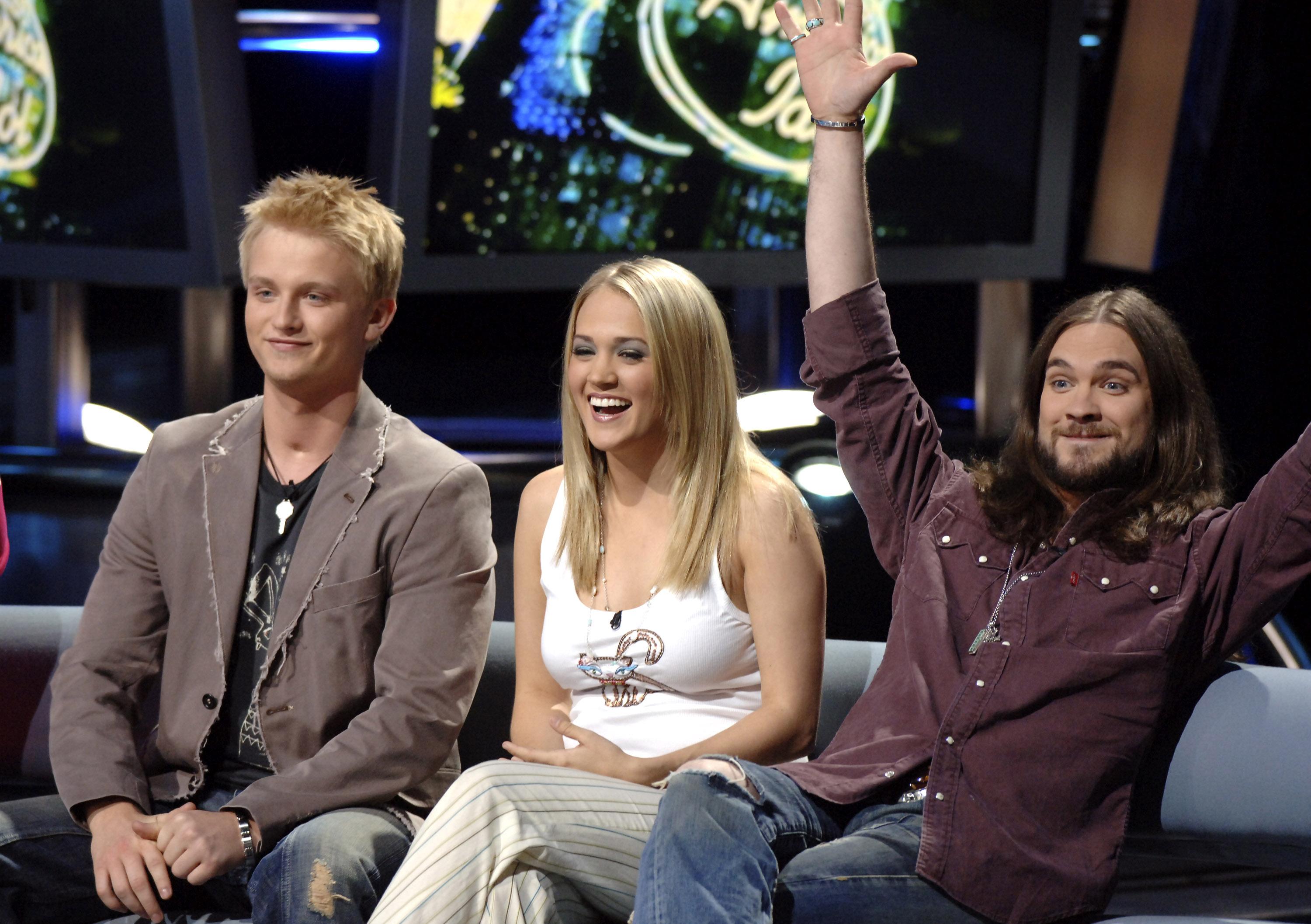 Carrie Underwood Love Triangle?: The National Enquirer reported during season 4 in 2005 that AI sweetheart Underwood was caught in a love triangle with two fellow finalists -- after dumping her hometown sweetheart. According to Enquirer sources, the farm girl from Oklahoma had won the hearts of rivals Bo Bice and Anthony Fedorov. And she reportedly left student boyfriend Drake Clark "devastated" after breaking up with him in the middle of the competition. Underwood went on to music glory and married hockey player Mike Fisher in 2010.
https://www.nationalenquirer.com/celebrity/idol-carrie-love-triangle
Article continues below advertisement
Chris Daughtry and Katharine McPhee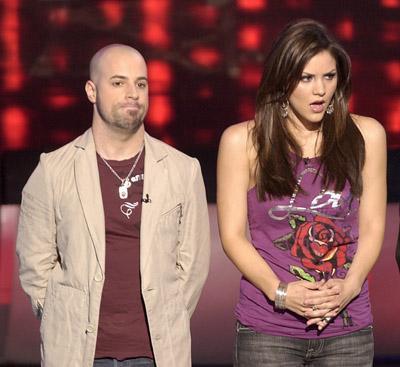 Chris Daughtry Voting Scandal: In one of the most shocking eliminations in Idol history, the bald headed hottie was sent packing in season 5, leaving Katharine McPhee, Taylor Hicks, and Elliott Yamin to vie for the crown. Later, some voters claimed that phone calls dialed for Daughtry during the first few minutes of voting were misrouted to McPhee's lines. FOX denied any technical problems and Daughtry fans' attempt to bring him back to the show was unsuccessful.
Article continues below advertisement
David Cook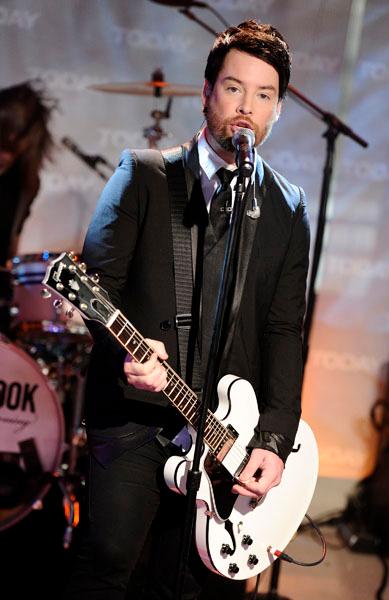 WGWG: From seasons 7-11, Idol critics noticed a trend that the American Idol winner was always a "WGWG," a "white guy with guitar." After David Cook, Kris Allen, Lee DeWyze, Scotty McCreery, and Phil Phillips won in consecutive seasons, viewers and critics accused American Idol of having gender and ethnic biases—or simply being too predictable as female fans voted for the boys! Candice Glover broke the WGWG streak by winning season 12.
Article continues below advertisement
Frenchie Davis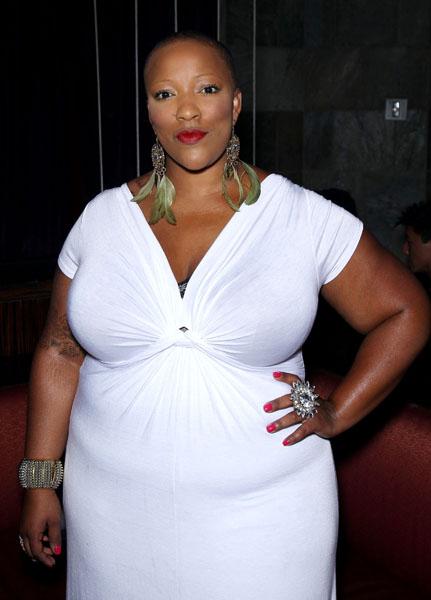 Frenchie Davis is Disqualified: The big gal looked like a favorite to win season 2 after wowing the judges with her performances. But Idol honchos booted Davis off the show after topless photos of the singer surfaced on the internet. Still, Davis had the last laugh! She starred in Broadway's ent, toured with Dreamgirls and Ain't Misbehavin, and appeared on season 1 of The Voice. In 2012, she came out as bisexual.
Article continues below advertisement
Lazaro Arbus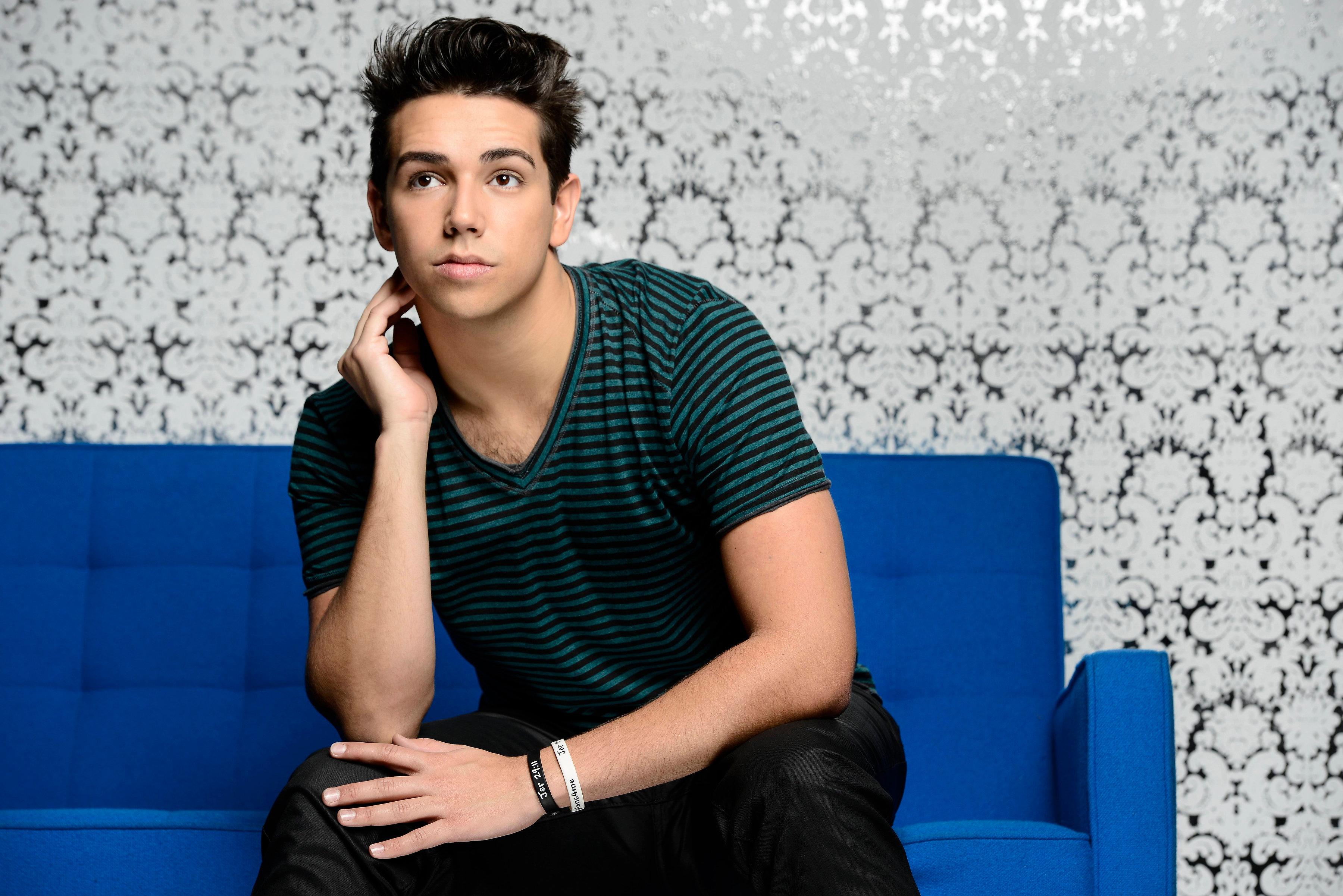 Idol Contestant Outed?: During season 12, stuttering Lazaro Arbos raised eyebrows (and other things?) with his tight pants as much as his questionable singing. Soon, the website Vote for the Worst dug up photos of Laz looking very cozy with a cute guy, Ronnie Barcena, and fans speculated he was his boyfriend. Arbos, who never talked about his sexuality, is still tweeting fans and working on his music.
Article continues below advertisement
Jessica Sanchez and DeAndre Brackensick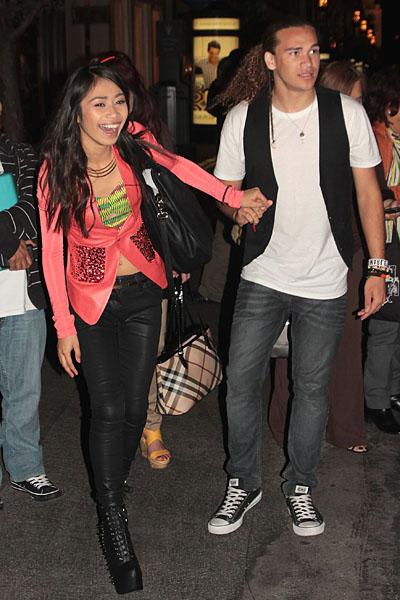 American Idol Romance: In 2012, season 11 runner up Jessica Sanchez confirmed a romance with fellow contestant DeAndre Brackensick during the American Idol summer tour. "He's my boyfriend," she told fans during an online chat. The two later shared via Twitter what they've been up to together, including a trip to Disneyland.
Article continues below advertisement
Ruben Studdard, Ryan Seacrest and Clay Aiken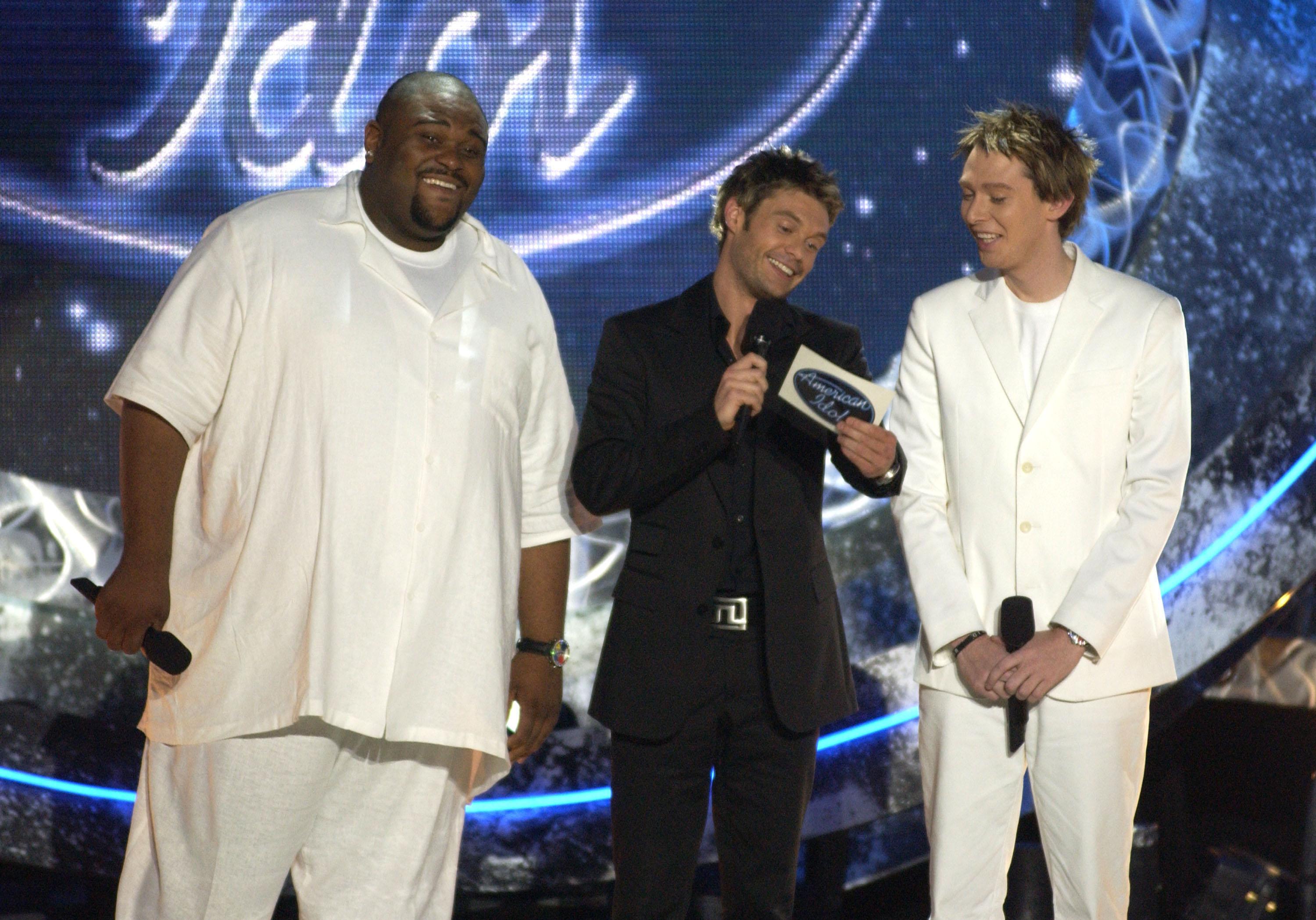 Seacrest Out--Of Bounds?: Host Ryan Seacrest is the only person who has been with AI since day one -- and he recently said there's "not a chance" he'll leave the show that made him famous. But Seacrest made a big gaffe during the season 2 finale pitting Ruben Studdard against Clay Aiken. Seacrest, who was under the weather, accidentally misread the number of votes that separated the two finalists, leading Claymates (Aiken fans) to cry foul, believing the phone system had been overloaded.
Article continues below advertisement
Elton John/Jennifer Hudson, Fantasia Barrino and LaToya London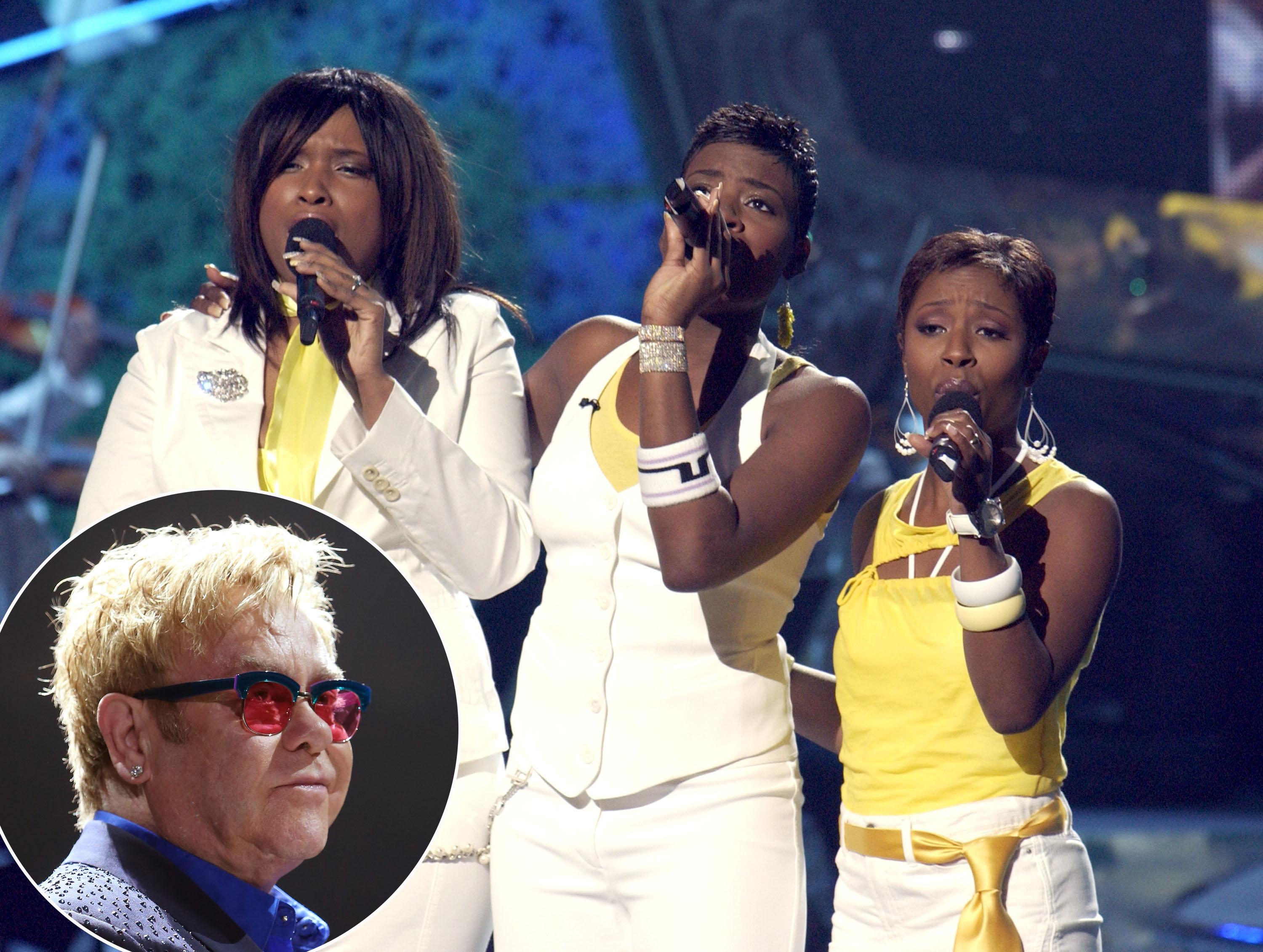 Idol Racism Controversy: During season 3 in 2004, it was the battle of the divas with La Toya London, Fantasia Barrino, and Jennifer Hudson. Fans were outraged when they were all in the bottom three during top 7 week. Elton John even weighed in, saying Idol was ''incredibly racist.'' The pop icon, who had been a guest judge on season 3, elaborated, ''The three people I was really impressed with — and they just happened to be black, young female singers — all seem to be landing in the bottom three,'' he told reporters. Ultimately, Hudson was sent packing—but she went on to win the Oscar!
Article continues below advertisement
Paula Abdul/Jason Castro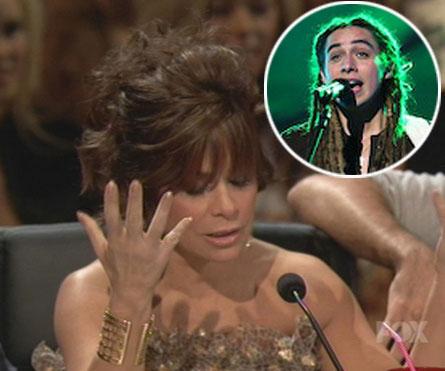 Paula Abdul's Judging Trainwreck: The singer-turned-Idol-judge was known for her loopy on-air behavior, but she really caused problems for AI during season 7 in 2008, when she offered a critique of a song that hadn't yet been sung! Abdul later had to 'fess up that she had seen part of Jason Castro's dress rehearsal, which takes place about two hours before the live broadcast. During the show, she had mixed up the rehearsal and the live performances. The issue raised questions about Idol's credibility.
Article continues below advertisement
Mario Vazquez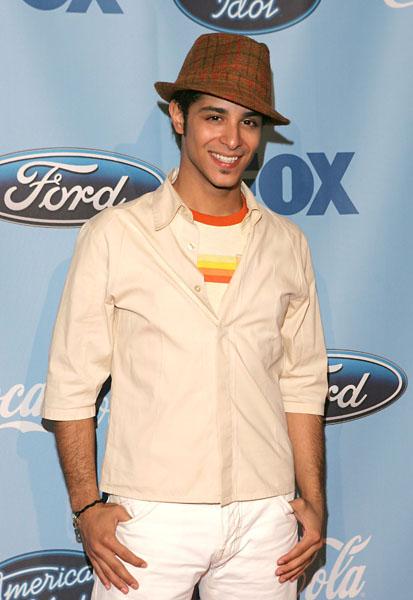 Mystery Behind Mario Vazquez Quitting Idol: Fans were shocked when the hunky star who was on Carrie Underwood's season 4 became the only contestant ever to quit Idol, citing ''personal reasons." Vazquez also claimed he wanted to have creative control of his career and not be a part of the Idol machine. But later, it leaked out that he had been accused of sexually harassing a male Idol employee. A former production worker for the show alleged that Mario had touched him inappropriately and asked him for oral sex when they were in a bathroom together.
Article continues below advertisement
Scott Savol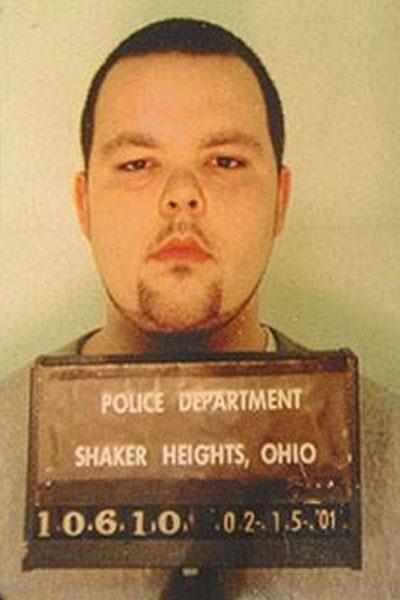 Scott Savol's Arrest: During Savol's season 4 Idol run, thesmokingun revealed that the Ohio native had once been arrested for domestic violence following a dispute with his baby mama. Savol had pleaded guilty to a misdemeanor disorderly conduct charge in 2001. Idol producers said Savol was forthcoming and remorseful about the arrest and decided he would not be disqualified.
Article continues below advertisement
Bo Bice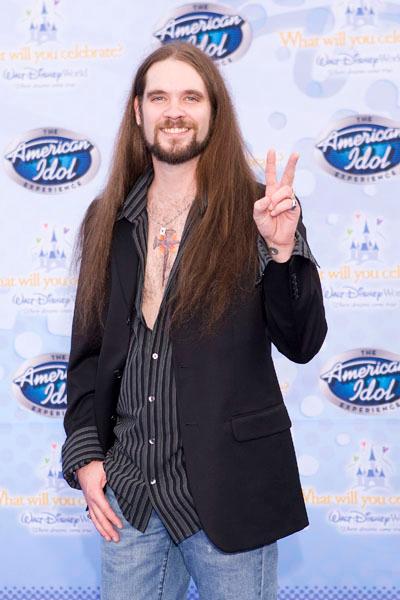 Bo Bice's Drug Past: Season 4's down home rocker's tarnished past was exposed by thesmokinggun.com, which revealed Bice had been arrested for felony cocaine possession in 2001, and for marijuana possession in 2003. The charges had been dismissed after he completed a ''diversion program.'' But Bice had already told show bigwigs about the incidents, so he was allowed to continue on the competition, and finished second only to Carrie Underwood.
Article continues below advertisement
Ryan Seacrest and Brian Dunkleman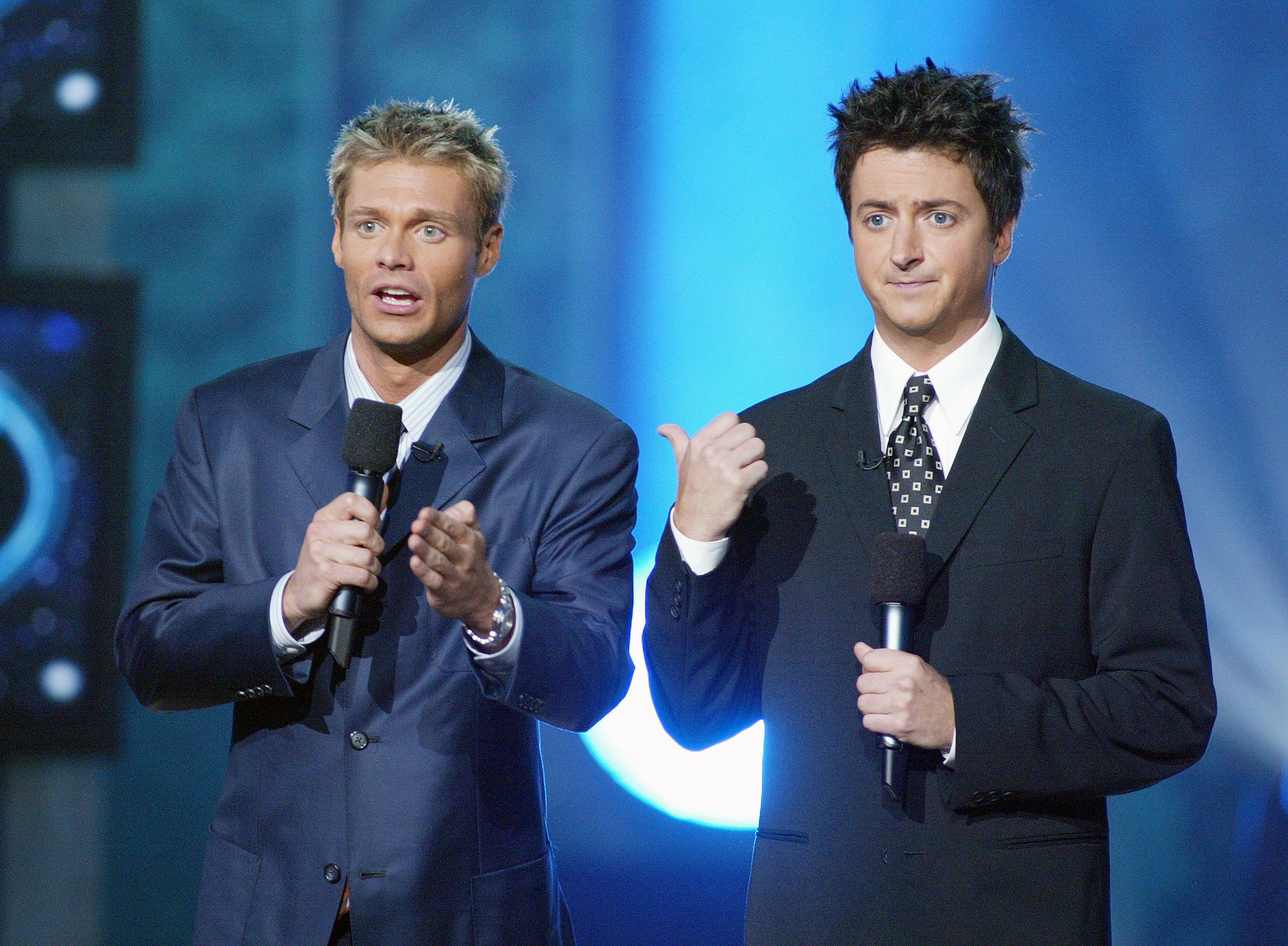 Dunkleman Quits Idol: Is Brian Dunkleman the dumbest man in show business? Idol fans thought so because the comedian decided to quit the show after just one season co-hosting with Ryan Seacrest. The unfortunate Dunkleman went on to watch Seacrest become a household name and multimillionaire, while he is still, well, Brian Dunkleman (he later appeared as a contestant on Celebrity Fit Club). Still, he's told Howard Stern he's happy with his life. And fans blasted Seacrest for a cheap shot in 2010 when Mr. Show Biz joked about Dunkleman on Idol.
Article continues below advertisement
Simon Cowell and Mezhgan Hussainy
Simon Cowell And His Makeup Artist: Love obviously bloomed behind the Idol scenes as in 2010, during Cowell's last season judging (he moved on to X Factor), he got engaged to the show's makeup artist Mezhgan Hussainy. But they broke up after Cowell impregnated Lauren Silverman, the wife of his best friend. Sources said Hussiany was devastated.
Article continues below advertisement
Ellen DeGeneres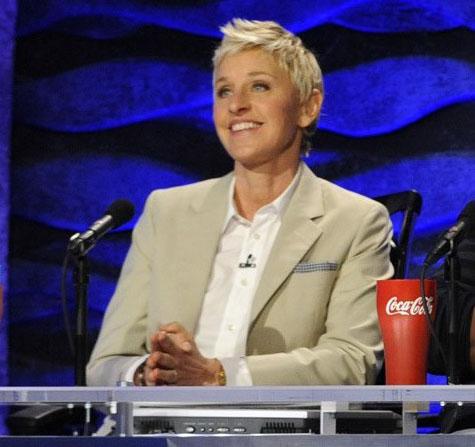 Ellen DeGeneres Experiment Fails: It was a very bad fit when the talk show host known for her on camera kindness tried to be an Idol judge on season 9. Critics ripped DeGeneres as her jokes fell flat and she praised every contestant, bringing nothing interesting to the table. While the National Enquirer said Simon Cowell and DeGeneres feuded at the time, he recently appeared on her talk show to talk about expecting a baby with galpal Lauren Silverman.
Article continues below advertisement
David Hernandez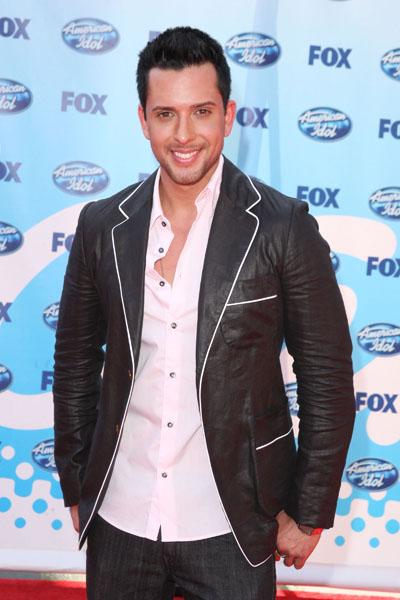 Idol Stripped Down: David Hernandez, a season 7 contestant, rocked the show when his past as a stripper came to light. Shortly into the season's run, Vote For The Worst posted photos featuring Hernandez working at a Phoenix male strip club called Dick's Cabaret. But he continued on Idol for a short time until he was eliminated. Cowell was overheard joking to Paula Abdul that she should critique the kid's music by saying, "I love the way you strip it down."
Article continues below advertisement
Sanjaya Malakar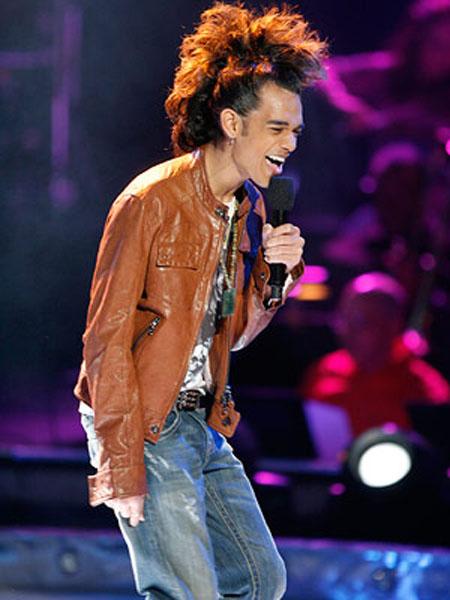 Idol's Worst Singer Ever?: Sanjaya Malakar surprised America by taking over season 6—with his BAD singing! He stayed on the show much longer than many viewers expected, and the self-explanatory website Vote for the Worst took credit. Mohawk-wearing Malakar was also helped by "the crying girl" who sobbed in the audience for the lovable vocally challenged competitor. Was he the worst ever? Well, at least until season 12's Lazaro Arbos!
Article continues below advertisement
Kara DioGuardi and Katrina Darrell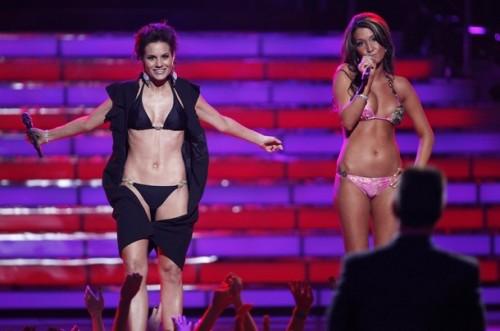 Kara DioGuardi Strips: Idol's season 8 finale featured the American Idol judge stripping down to a bikini to upstage Katrina "Bikini Girl" Darrell. But DioGuardi later revealed in her tell-all book A Helluva High Note that the producers made her do it – and she wound up humiliated. "When we wrapped, I went back to my trailer outside the Nokia Theater and bawled uncontrollably for 20 minutes," she recalled of exposing her body to America. DioGuardi, who was later fired, also revealed Simon Cowell had given her the cold shoulder while she was on the panel.
Article continues below advertisement
Paula Goodspeed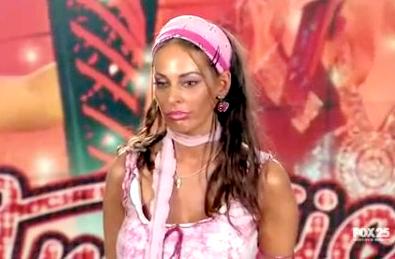 Idol Related Tragedy: Paula Abdul superfan Paula Goodspeed auditioned for Idol and her performance was called unpleasant by Abdul, while Simon Cowell ridiculed her looks. On November 11, 2008, Goodspeed was found dead of a drug overdose in her car outside of Abdul's Sherman Oaks home in an apparent suicide. Later, Abdul blamed show producers for letting disturbed Goodspeed, whom she said was an obsessed fan, audition in the first place!
Article continues below advertisement
Bucky Covington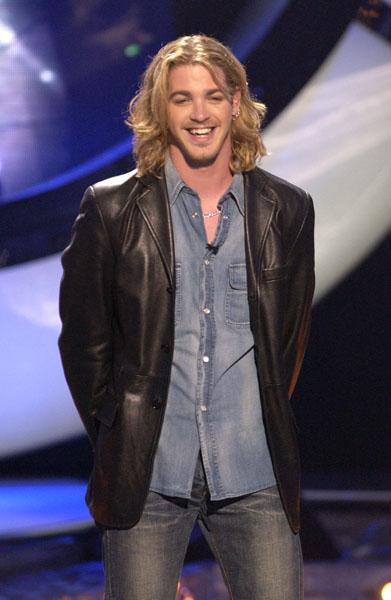 Bucky Covington And His Twin: During season 5, it was reported that the country kid had allegedly attempted to impersonate his twin brother, Rocky, in 1998 in order to help him avoid prosecution. (Rocky had been in trouble for driving with a suspended license.) A judge eventually dismissed all charges, but Covington was tarnished and soon eliminated on the show in 8th place.
Article continues below advertisement
Simon Cowell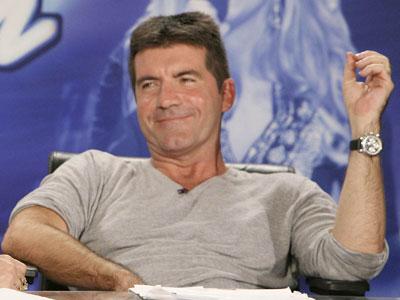 He Didn't Mean To Be Rude?: Simon Cowell often has come under fire on Idol for his un-PC remarks. During the audition rounds for season 6, he compared a contestant's looks to a ''bush baby.'' Later, Cowell and the other judges got in hot water for slamming a man who they later found out had participated in the Special Olympics.
Article continues below advertisement
Danny Noriega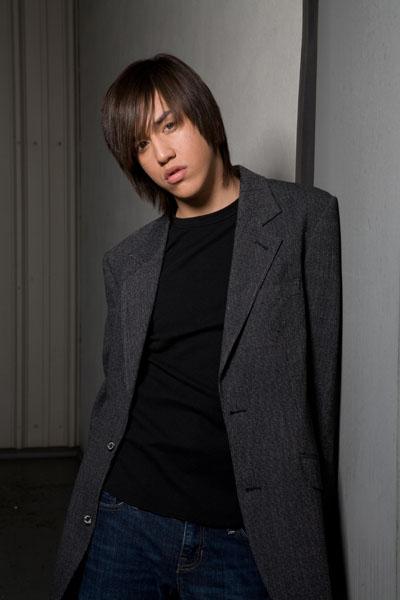 Danny Noriega's MySpace Video: Danny Noriega was one of the most flamboyant competitors in AI history and bravely stood up to Simon Cowell during season 7. But his attitude also got him in trouble as a video surfaced on the web from his MySpace page, in which he expressed his Christmas wishes: ''I hope Santa Claus rapes your f---ing mother and I hope you all get coal, because you are all pieces of s--t.''
Article continues below advertisement
Crystal Bowersox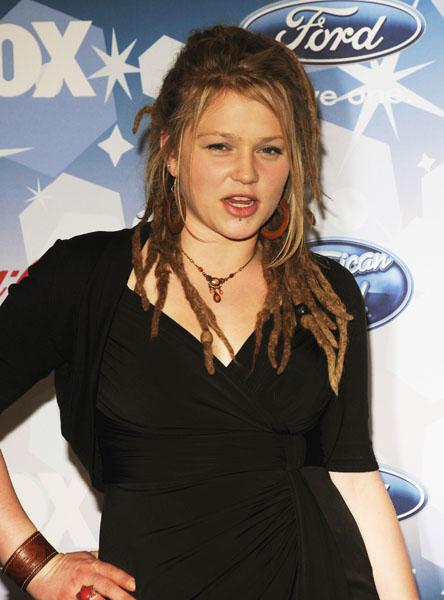 'Betrayed' by Seacrest: During Season 9, Crystal Bowersox caused controversy by bashing host Ryan Seacrest for publicly revealing she had talked to him about quitting the show(because she missed her young son). In a text message to a friend, Bowersox said she'd been "betrayed by Seacrest" and had never seriously considering quitting. Host and singer later smoothed things over on the show. Bowersox, who finished second to Lee DeWyze, recently announced she's bisexual.
Article continues below advertisement
Kelly Clarkson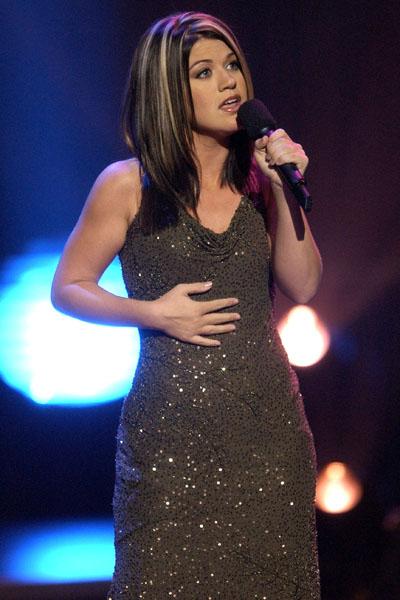 Record Deal Controversies: American Idol stars have been accused of already having album contracts. In 2002, Star magazine sources claimed Kelly Clarkson violated the show rules by already having a recording deal -- which she abandoned to do the TV show. Officials for Fox and 19 Productions, the management company behind Idol, declined to comment on the allegations about Clarkson. Later, fans learned season 7's Carly Smithson had already recorded the album Ultimate High under her maiden name, Carly Hennessy. However, Idol's producers decided she would remain on the show as the rules don't prohibit those who once had a recording contract, only those who are currently signed.
http://forum.dvdtalk.com/archive/t-257151.html