She Speaks! Transgender Model Sofie Vissa Tells All About Alleged Sext Messages With JLo Boyfriend Casper Smart - 'The Last One I Was Completely Nude!'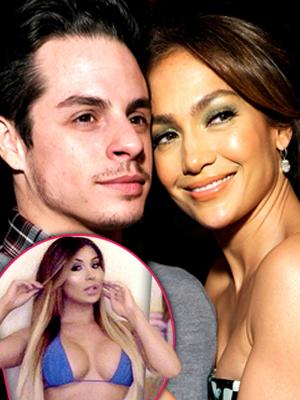 Jennifer Lopez's relationship with Casper Smart is about to get a whole lot rockier.
Sofie Vissa, the transgender model who allegedly sent steamy pictures via Instagram to Smart, finally has spoken out to explain the situation.
"I sent him like five or six pictures," Vissa told Woman's Day. "There were a couple of semi-explicit ones and then the last one I was completely nude. And he 'liked' the post."
Article continues below advertisement
The 23-year-old model from Los Angeles said there was no way Smart didn't know that she was transgender because she makes it very clear on her Instagram profile.
"I'd do hashtags on Instagram… to get a lot of followers I'd put #TS or #Shemale or #transgendered on them," she said in the interview. "I remember I put those hashtags on one of my photos and when I went back to look at my phone I'd got a request from Casper."
After Smart reportedly "liked" a lot of her photos, the two began chatting and eventually J-Lo's 27-year-old boyfriend allegedly started privately requesting sexier shots from Vissa.
"I'd just had a photoshoot and I posted pictures in a blue bikini," Vissa told Woman's Day, adding Casper replied, "'I like your water pics lol.'"
"I was like, 'Which one? How are you?', and he wrote, 'Second one with the blue top'."
Article continues below advertisement
Even though Smart reportedly enjoyed the steamy pictures, he didn't actually "like" them on Instagram, so Vissa asked why, and Smart reportedly replied, "Because a lot of people monitor what I like. And I think telling you is better, don't you?"
Casper later reportedly asked the model, "'I wanna see more, what you got?'" To which Vissa replied, "'What do you wanna see? My smile?'"
Playing coy, Casper allegedly responded, "'Haha sure. That's the best attribute on a person.'"
In response, Vissa allegedly said "'I like smiles, eyes and nice asses,' and he put 'me too. I got all of those'."
The back-and-forth banter reportedly ended after Vissa sent Smart a completely nude photo. Casper then allegedly deleted the pictures and conversations the pair had shared with each other.
RadarOnline.com also reported that a second transgender model came forward claiming she exchanged sexy messages with Smart.