Exclusive
Silence Is Golden! Jennifer Lopez Forces Love Rat Boyfriend Casper Smart To Sign Non-Disclosure Agreement Preventing Tell All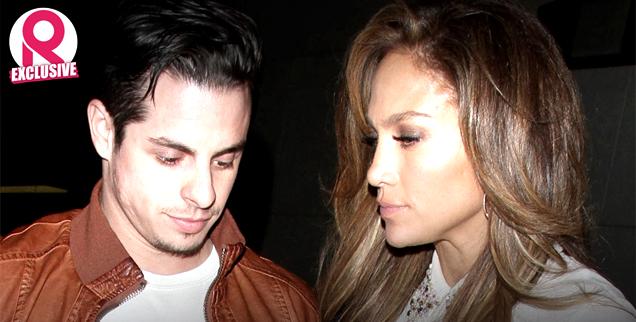 Jennifer Lopez isn't taking any chances when it comes to details about her personal life, so she had boyfriend, Casper Smart, sign a legal document agreeing to never spill secrets about their relationship to the media, RadarOnline.com is exclusively reporting.
Married three times, Lopez is "very savvy when it comes to business, but her love life is always filled with tons of drama," a source said. Her manager, Benny Medina, reportedly told her to draw up the document in order to protect her brand. Smart had only been dating Lopez for a few weeks when she sprung the legal document, known as a non-disclosure agreement, on the choreographer.
Article continues below advertisement
The document states that Smart is never allowed to discuss his relationship - business or personal - with Lopez to the media, unless she has given prior written approval. He had no problem signing it, which made her very confident that she was at least dating a good guy.
There are no financials in the agreement, but it does say that if Smart breaches the agreement, she has the right to sue him and recover any gifts she had given to him during the course of the relationship. If Smart follows the rules, "he is allowed to keep all gifts," the insider told RadarOnline.com.
RadarOnline.com broke the story that the American Idol judge, 44, has fled to her native New York City without constant companion Smart, 27, and sources reveal that the nearly three-year relationship is essentially kaput.
"Jennifer has been embarrassed by him yet again," a friend tells RadarOnline.com of Smart, who has denied straying on the superstar. "He was not invited to accompany her to New York."
After another transsexual model allegedly has exposed her sexy Instagram chats with Smart, a fed-up Lopez finally has had enough.
Article continues below advertisement
"Things started to go downhill when Casper was fired as Jennifer's creative director after the show in Dubai," the pal explains. "He was basically demoted to her cabana boy."
Now, mother-of-two Lopez is holed up in a Manhattan apartment, the source adds, diligently cutting Smart from her future travel plans.
PHOTOS: Busted… BIG TIME! 12 Hollywood Stars Caught On Camera Cheating!
"Casper was told he's not going to Brazil for the World Cup," the friend reveals of the international men's soccer tournament, beginning June 12. (Lopez released the Cup's official song, "We Are One (Ole Ola)" with rapper Pitbull in May.) "Soccer is his favorite sport, so it must really suck for him."
Nik Richie's TheDirty originally reported allegations last week that Smart was having an affair with curvaceous transsexual model Sofie Vissa.
Meanwhile, Lopez's advisers are "urging her to just end the relationship with Casper. All of these headlines about dating transsexuals is just tacky, and detracting from all of the great things going on in her life. Casper is just bringing her down," the insider added.