Exclusive
Back In Jail! Pregnant 'Teen Mom 2' Star Jenelle Evans' Ex Hubby Locked Up Again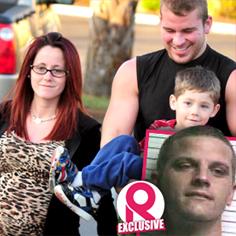 Article continues below advertisement
"Courtland's felony charge relates back to his April 2013 arrest for possession of heroin with Jenelle," a source told Radar.
"And the misdemeanor charge is because he didn't show up in court on Tuesday for the case about Jenelle's sister Ashleigh."
Rogers is being held on $150,000 bond for the felony charge and $5,000 for the misdemeanor charge.
"Having to come up with $15,500 for bail is going to be really hard for Courtland," the source told Radar.
"He's probably going to stay in jail for a while."
His pregnant ex-wife, 22, is certainly not celebrating his latest incarceration.
"Jenelle thinks it's really sad that he can't stay out of trouble and that he is back in jail," a source close to the MTV star told Radar
"And she's glad that she's not married to him anymore."