Exclusive
Jenelle Evans Vs. Courtland Rogers: Pregnant 'Teen Mom 2' Star Set To Face Off Against Estranged Hubby In Court, But He Has A Warrant Out For His Arrest On OTHER Charges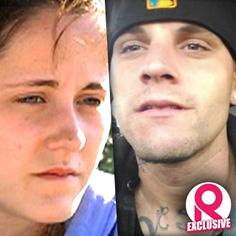 Jenelle Evans is set to come face to face with her estranged husband in a potentially explosive meeting and RadarOnline.com has exclusively learned that Courtland Rogers is a wanted man.
The pregnant Teen Mom 2 star must appear in a North Carolina court on Tuesday, June 10 in front of a judge about her impending divorce, but Radar has also learned that there is a warrant out for the arrest of Rogers after he failed to appear on charges unrelated to Evans.
Article continues below advertisement
"Jenelle has to show up on Tuesday," a source close to the MTV star told Radar.
"She and Courtland haven't spoken to each other so if he shows up there is no telling what is going to happen."
The couple separated in 2013 after both being arrested for heroin possession but due to the draconian laws in the state they had to wait a year before filing the divorce papers.
The source said Rogers has been frantically trying to reach his estranged wife, to no avail.
"Courtland wants to talk with Jenelle so he sends her messages which she completely ignores. It makes him really mad."
Rogers has also taunted Evans online, claiming that he isn't going to appear in court.
However, another source told Radar that Rogers failed to show for a separate court date on Monday in Wilmington, North Carolina to face Evans' sister, Ashleigh Evans Wilson, and that he has a warrant outstanding for failure to appear in other cases.
As she prepares to give birth to her second child at the end of the month, Radar has learned that Evans still wants nothing to do with Rogers.
"Courtland could get in a lot of trouble if he doesn't do the right thing in court with Jenelle. She tells him to talk only to her lawyer because she wants nothing to do with him. She wants to get divorced, have her baby and marry Nathan Griffith and doesn't want to deal with any of Courtland's bullsh*t anymore."