Exclusive
So Nice, She Did It Twice! 'Teen Mom 2' Star Jenelle Evans Celebrates Son-To-Be With Double Baby Shower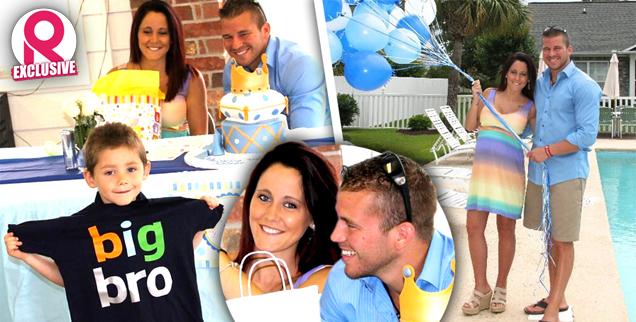 Teen Mom 2 star Jenelle Evans, who is pregnant with her second son and first with her boyfriend Nathan Griffith, is getting the mother of baby showers.
"Not only did Jenelle and Nathan get one baby shower, but they are getting a second one thrown for them," a source close to Evans told RadarOnline.com.
The first one took place on Saturday, May 31, the source confirmed — and Evans dutifully updated her Twitter profile pic with a shot of her and Griffith from the party.
Article continues below advertisement
"Nathan's older sister and his mother threw that shower for Jenelle and Nathan," the source said.
The first party was on the smaller side.
"There were about 15 people there," the source said. "It was for family and for Nathan's side of the family."
And Evans' unborn son, who she has already named Kaiser, received a ton of presents.
"Baby Kaiser got plenty of wonderful gifts," the source says. "Jenelle received a BOB stroller and Britax BOB car seat, diapers, wipes, a diaper genie, clothes, and a play pen."
And now, the happy couple is gearing up for yet another celebration, the source revealed.
"Jenelle has a baby shower coming up at her mother Barbara's house," the source said. "This one is going to be for all of her friends and it will be bigger than the first baby shower that Nathan's mom and sister threw for her."
"The shower that is going to take place at Barbara's house will happen in about two weeks," the source concluded.
And baby should come soon after that — stay tuned!