Holly Bobo Murder: Two More Men Arrested, Authorities Claim They Have Video Of Her AFTER She Was Kidnapped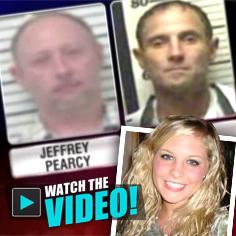 Article continues below advertisement
The two latest arrests were brothers Jeffrey Pearcy and Mark Pearcy, who were taken into custody in Henderson County, Tennessee on May 29 and charged with "Tampering with Evidence and Accessory After the Fact."
An affidavit in the case said that Jeffrey Pearcy "has a video on an electronic device, 'that will prove to be beneficial in the prosecution of a current on-going investigation being conducted by the Tennessee Bureau of Investigation,'" according to NewsChannel5.com.
His attorney, Olin Baker, defended his client.
"They're saying there's either a recording or audio or something on an electronic device that relates to the Holly Bobo case," he said, and denied the existence of a video.
Watch the video on RadarOnline.com
"He (Jeff) says there's no truth to it, no video, he's been questioned on it by TBI and they're out on hearsay making arrests. This is a warrant based largely on hearsay it looks to me like a police tactic to try to make an arrest and they are trying to rattle some evidence loose... the TBI is on a fishing expedition."
Article continues below advertisement
Baker claims that his client has no connection to Bobo, and authorities have not said if they have ever recovered her body.
"At the end of the day there's probably no evidence that exists. (Jeff) never met her, never met Holly Bobo. I don't think he has any connection to the Bobo case," Baker said.
News Channel 5 reported that the affidavit states that Mark Pearcy may have appeared in the video.
"Out of respect for the judicial process, we cannot speak to the particular possible pieces of evidence in this case. We continue our work to follow the leads wherever they might lead. We won't stop until we find a sense of justice and closure for the family and friends of Holly Bobo," The Tennessee Bureau of Investigation said in a statement.
Both Pearcy brothers are both being held without bond.