Case Dismissed! Ex-'American Idol' Contestant Corey Clark's $120M Slander Lawsuit Shut Down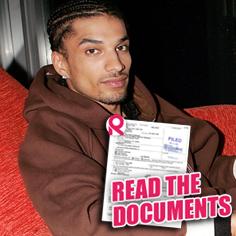 Article continues below advertisement
Fox released several statements contradicting Clark's allegations and even hired an independent law firm to look into his claims.
Ultimately, the firm found no evidence to substantiate them.
The original E! True Hollywood Story: Paula Abdul aired in August 2005, but was rebroadcasted Jan. 27 2012. The episode, which focuses mainly on Abdul's career, also touched upon Clark's ascension on the show and later disqualification, his alleged fair with the American Idol judge and her subsequent denial.
As a result, Clark sued the TV companies for $120 million, claiming libel and false light invasion of privacy. Clark alleged the show damaged his reputation, character and integrity in the community and hindered his opportunity for future potential income.
The defendants moved to dismiss the case arguing that the program "recounts precisely those facts that Plaintiff admits in the First Amended Complaint regarding the dispute between himself and Ms. Abdul, including what each side claimed occurred, and how events unfolded in the media."
Article continues below advertisement
READ: The Documents Of Corey Clark's Dismissed Case
Fox Broadcasting and E! Entertainment also argued that Clark's complaint was time sensitive.
The judge agreed with the defendants, ruling that Clark filed his "some six years too late."
"The original Complaint was filed in this Court on January 25, 2013, which is within one year of the airing of the Program on January 27, 2012. Nevertheless, Plaintiff's claims are time-barred because they are based upon alleged defamatory statements which were first and widely published in 2005," the memorandum states.
This is the second legal battle the singer lost this year as a judge also dismissed his $40 million lawsuit against Viacom in May.