The Idolizing Is Over! Latest 'American Idol' Winner's Debut Album Is Lowest-Selling Ever In Same Week Show Draws Fewest Viewers In Its History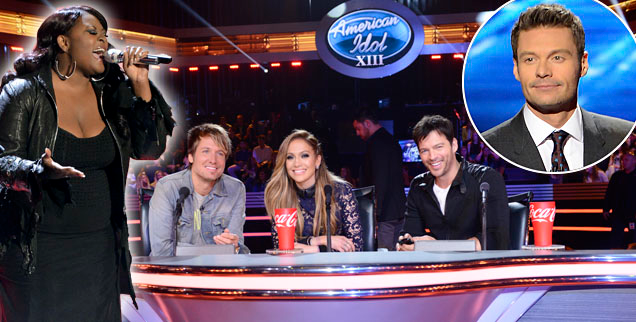 It looks like the end is near for American Idol.
The singing competition show that was once must-see TV, had the smallest numbers of viewers in its 13 seasons last week and its 2013 winner, Candice Glover's, debut album charted a new low for any winner's premiere effort.
The ratings for the show's February 27 outing set a new low for the Fox series. Just over nine million viewers tuned in. Almost twice that many set their dials for the competing Big Bang Theory.
Article continues below advertisement
Just as dismal for the show's future, 2013 winner Glover's long-delayed debut album, Music Speaks, sold just 19,000 copies its first week, in numbers released on Friday, Billboard is reporting.
By comparison, season 11 winner Phillip Phillips sold 169,000 copies of his debut album in the first week. Carrie Underwood's first effort sold 315,000 copies the first week and Kelly Clarkson, 297,000 copies. Season two winner Ruben Studdard topped them all with a whopping 417,000 copies of his first album.
The Ryan Seacrest hosted show, which was already in decline, hasn't been able to recover from its disastrous season 12 where the battles between judges Nicki Minaj and Mariah Carey took center stage away form the competitors.
Even bringing back Jennifer Lopez, to the panel that includes Keith Urban and Harry Connick, Jr., hasn't helped and the slide continues.
Many TV experts are predicting that Fox will pull the plug on Idol after the season finale in May or, depending on what the alternatives are, may make one last ditch effort to resuscitate it.
"If Ryan Seacrest says he's done, that will definitely be the end," a well-placed source tells us.
Do you still watch American Idol? Would you like to see the show continue? Tell us in Comments.