Jermaine Jones Kicked Off American Idol For Hiding Criminal Past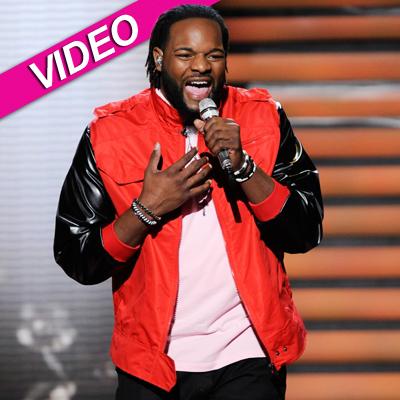 By Adam S. Levy - RadarOnline.com Staff Writer
Jermaine Jones is gone from American Idol.
Jones, a 25-year-old singing coach, was disqualified from the Fox juggernaut Wednesday, after the show's powerbrokers learned he'd kept his criminal background under wraps, having four outstanding arrest warrants in his home state of New Jersey.
In a segment aired on Wednesday's show, the deep-voiced Jones explained the gaffe to executive producers Ken Warwick and Nigel Lythgoe.
Article continues below advertisement
"You were incumbent to tell us the truth about all of this, and it appears that you just haven't on any level," Warick explained to Jones, nicknamed "The Gentle Giant" by host Ryan Seacrest.
Jones pleaded his case, explaining he didn't "want to get judged" for anything but his singing ability.
"I was nervous ... I didn't want to get penalized for anything that happened in the past," Jones said to unsympathetic ears.
Warwick and Lythgoe, explaining they are not judgmental at all, told the talented crooner they're not supposed to feature anyone with active warrants out against them, including one tied to a possible fight.
"Nobody was fighting," Jermaine said in his defense. "Me and one of my other friends had a disagreement, um ... but it was not like fist fighting, like ... anything like that."
Still his pleas fell on deaf ears, and he went out with class, telling Warwick and Lythgoe, "Thank you so much for the opportunity and everything."
Article continues below advertisement
With the disqualification, Jones joins an exclusive group of contestants who've been dismissed for off-stage reasons in the show's 11 seasons, a list that also includes Corey Clark and Frenchie Davis in 2003, Joanna Pacitti in 2009, and Chris Golightly in 2010.
Elsewhere on the show, the remaining 11 finalists had to sing songs from their birth year, though some sang remakes that happened to be hits the year they were born.
Joshua Ledet did as much, covering Michael Bolton's 1992 ballad When A Man Loves A Woman, originally sung by Percy Sledge in 1966.
Watch the video on RadarOnline.com
Luckily for Ledet, the judges didn't seem to care, with Jennifer Lopez telling the Louisiana student his performance was "the best thing I've ever seen on American Idol ... I can't stop saying, 'Wow!'"
Steven Tyler echoed similar sentiments, telling Ledet, "That was just the most beautiful performance I've ever seen!"
The judges gave Ledet -- a bottom-three finisher last week -- big ups, telling him he was the safest of the remaining 11 contestants.
San Jose teen Deandre Brackensick did not fare as well, with Randy Jackson calling her interpretation of the Mariah Carey and Luther Vandross ballad Endless Love "just way too boring."
American Idol's eleventh season continues Thursday at 8/7c on Fox.