Chris Pratt Gets Honest In 'Men's Fitness' Interview – 'I've Benefitted From Having Almost Zero Critical Thinking And A Very Low Bar For Success'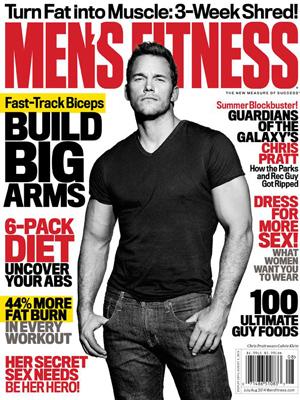 Chris Pratt wasn't always going to be an actor – he actually wanted a career in law enforcement. Could you imagine a world where Pratt didn't play Parks and Recreation's Andy Dwyer?!
That almost could have been reality, until some brotherly advice led him in another direction, leading him to his successful role as the loveable-but-dimwitted Dwyer. With an upcoming blockbuster this summer and a leading role in the Jurassic Park reboot, Pratt talked frankly with Men's Fitness -- on sale now -- about his career and his personal life.
Article continues below advertisement
"I never put any thought into what I would do if this didn't work out," Pratt said. "My whole life I've benefitted from having almost zero critical thinking and a very low bar for success."
It's no secret that Pratt gained a few pounds while appearing as Dwyer, but the funnyman said his weight gain started as an accident, but turned out to be a career game-changer.
"I'm not saying that fat is funny, but misplaced confidence is funny, and Andy is someone who is not fit but walks around like he is," Pratt told Men's Fitness. "So I went back the next day, and I told showrunner Mike Schur I wanted to gain 20 to 30 pounds. He said great.
"I'd found this niche: fat and funny."
Even though he's found great success as an actor – Marvel's Guardian of the Galaxy bows this summer – Pratt and his wife, Anna Faris, don't necessarily want to stay in Los Angeles forever.
"We both have an exit strategy," Pratt revealed. "I don't think either one of us sees us living here for the rest of our lives."
And if you're curious as to how much his wife must love him, Pratt revealed this little tidbit: "Anna told me once that she would be happy living in a trailer with me."