Casey Kasem Memorial Program Released – See Who Made It And Who Didn't Show!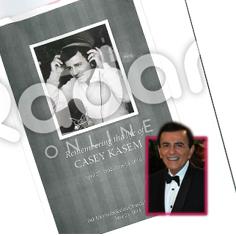 After the late Casey Kasem was remembered in a private memorial service in Los Angeles last weekend, RadarOnline.com has received exclusively the program from Sunday's service.
Reverend Kristin "Jo" Nivling opened the services with the prayer of St. Francis and officiated the rest of the ceremony. Several family members paid tribute to the late radio personality, but noticeably absent from the program were Kasem's widow, Jean, and her daughter, Tiffany. Radar previously reported that the two were no-shows, as Jean has been in the center of a bitter legal battle regarding Kasem's end-of-life care.
Article continues below advertisement
Kasem's, 82, two daughters, Kerri and Julie, spoke at the service, as did his brother and two granddaughters.
Although his family paid touching tributes to the late DJ, pop music arranger David Campbell also played a violin version of Stephen Sondheim's "Send in the Clowns," which was one of Kasem's favorite songs.
The ceremony closed out with a memorial video prepared by Mike Kasem. Fox News also reported that mourners at the service also listened to old radio shows, including "American Top 40," in which Kasem introduced Jimi Hendrix, Joni Mitchell and the BeeGees.