They've Settled A Battle But There's Still A War – Bethenny Frankel And Jason Hoppy Will Co-Parent Bryn…But Divorce Feud Continues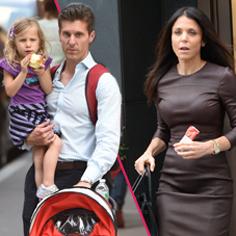 Their divorce battle has been very public for some time, but Bethenny Frankel and Jason Hoppy have settled one part of the ongoing feud – who will have custody over their 4-year-old daughter, Bryn.
The estranged couple settled and will co-parent their daughter.
"My client is delighted that this custody dispute has been resolved; that his co-parenting status has been acknowledged; that the parties' child will have the benefit of being raised by both parents; and most importantly, that his daughter will no longer be at the mercy of a high profile courtroom battle," said Bernard Clair, Hoppy's attorney, in a statement.
Article continues below advertisement
The terms of the settlement will remain confidential.
The custody agreement comes only one week after the Skinnygirl mogul revealed in court several nasty exchanges with Hoppy. She also claimed that Hoppy, 43, would involve Bryn in their arguments.
"He would sit with Bryn and look over and say . . . 'You be the princess, I'll be the prince, Mommy will be the witch,'" Frankel, 43, testified.
Her laundry list of complaints, however, weren't only his wrongdoings, as she also admitted to throwing water on Hoppy while he was sleeping.