Exclusive
Valerie Harper Scores ANOTHER Legal Victory In Nasty Cancer Lawsuit, Judge Rules She Did Not Leak Confidential Information About Settlement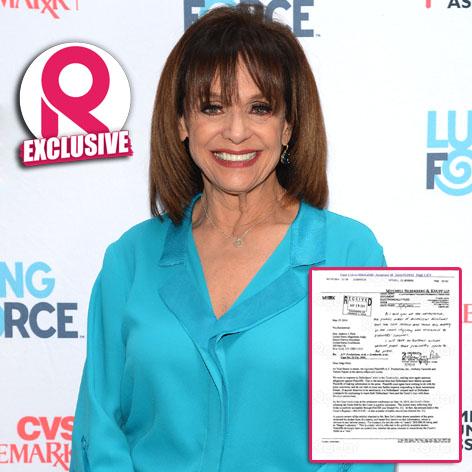 Valerie Harper has been through the ringer in a nasty lawsuit with a playwright that she accused of cheating her out of money when he learned she had cancer but RadarOnline.com has exclusively learned that the judge sided with her again recently in the ongoing battle, ruling that she was not leaking confidential information about the case to the media.
The former Mary Tyler Moore Show star, 74, sued Matthew Lombardo claiming he refused to pay her money she was owed on her contract for the play Looped and he then counter-sued her for $2 million in damages claiming she was intentionally withholding her brain cancer news which caused him losses over $500,000. The vicious case was settled with Harper receiving $50,000 from Lombaro.
Article continues below advertisement
However, after the settlement was reached, Lombardo's legal team wrote a letter to the judge claiming that Harper revealed the confidential details about their settlement to the media, according to court documents obtained by Radar.
"I am writing to Your Honor because of the disturbing news that details of our confidentialsettlement have been leaked," to various media outlets in violation to the courts order they claimed.
"The footprints are clearly in the sand," Lombardo's attorneys claim in the documents.
"Present in the Courtroom on May 14th were Your Honor, a court reporter, court personnel, two parties and three lawyers. Whatever was posted on the Court website was restricted to counsel only" and added that unless the media can hack in the courts website "its simple logic and math," that Harper leaked the details of the settlement.
Article continues below advertisement
You Can Sue For That? The 53 Wackiest Lawsuits
Lombardo asked the court to sanction Harper for the alleged leak and claimed his reputation has been damaged due to her talking to the media on numerous occasions during the course of the case.
Harper fired back at the allegations, writing her own letter to the judge, claiming Lombardo was "falsely" accusing her of leaking information. Harper's attorney pointed out that the information was on the court website and that the stories written were based on the public information on the website "which is obvious to any rational person."
The judge ruled in favor of Harper on May 19, 2014. He wrote a note stating: "As I told you at the conference, the public order of dismissal discloses that the case settled and that the money in the court registry was released to plaintiff's counsel. I will take no further action absent proof that plaintiff spoke to the press."