Valerie Harper Fires Back At $2 Million Theater Lawsuit: 'I Didn't Know My Cancer Had Returned!'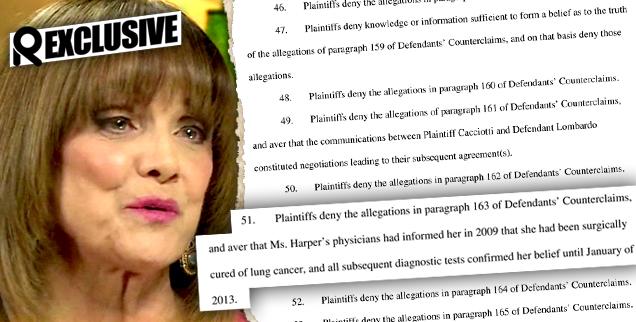 The only thing worse than getting diagnosed with brain cancer? Getting sued for it! Valerie Harper is fighting back against a New York playwright who claims she ruined his play by withholding her brain cancer diagnosis. He wants $2 million, but in new court documents Harper insists she had no idea just how sick she really was!
In the lawsuit, first filed last December, Broadway bigwig Matthew Lombardo accused the former Mary Tyler Moore Show actress, 74, of keeping her illness a secret, leaving his production star-less when she unexpectedly dropped out the 2013 national tour of his play, Looped.
Article continues below advertisement
Lombardo and producers "invested time, money and effort in the Looped national tour that they would not have have invested in the first place had they known about the return of...Harper's cancer and her inability to perform," documents claim. "Defendants incurred major financial losses."
READ Harper's Tragic Cancer Revelation In New Court Docs
But in new court documents obtained by Radar, the Dancing With the Stars alum claims she believed she was in cancer remission, having had successfully undergone surgery for a small lesion on her lung in 2009. She says she had no idea the cancer had returned and spread to her brain until January 2013— a month after she had re-signed her contract.
MORE ON:
Celebrity Justice
She also disputes Lombardo's claim that she was hospitalized for a recurrence of her cancer in January 2012, causing her to miss the day's rehearsal.
The star's longtime husband, producer Tony Cacciotti, "took Ms. Harper to the hospital from the rehearsal because he feared that she had a stroke," documents say.
Harper is requesting the suit be dismissed— and that Lombardo pay her attorney fees.
Sadly, the actress is still suffering from terminal leptomeningeal carcinomatosis, but she says she remains "cautiously optimistic" about the future.