Terminally Ill Valerie Harper Holds Hands With Devoted Husband Tony Cacciotti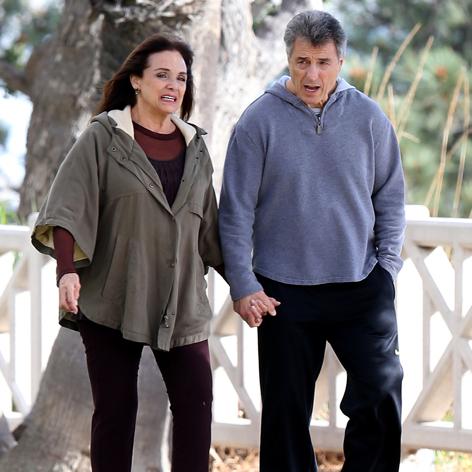 Bravely going public with her diagnosis of terminal brain cancer, Valerie Harper was spotted with her devoted husband Tony Cacciotti on Friday.
The TV star and the former personal trainer have been married since 1987, and he is standing firmly by her side.
Harper, 73, has eptomeningeal carcinomatosis, a rare condition that occurs when cancer cells spread into the fluid-filled membrane surrounding the brain. Her doctors have told her she has only about three months to live.
Article continues below advertisement
On Friday. she and Cacciotti were in Santa Monica's Palisades Park while shooting an interview for a TV show. In between takes, they strolled off by themselves, holding hands and enjoying a spectacular sunset over the ocean.
The Mary Tyler Moore Show and Rhoda star has decided to share her story while promoting her memoir, 'I, Rhoda.'
"I'm absolutely devastated by this news," Harper's good friend Mary Tyler Moore said when learning of the diagnosis. "Valerie has given so much joy, laughter and love to the world. I join her fans and send much love and positive thoughts to her and her family during this difficult time."