Valerie Harper To Reunite With The Mary Tyler Moore Show Cast On Hot In Cleveland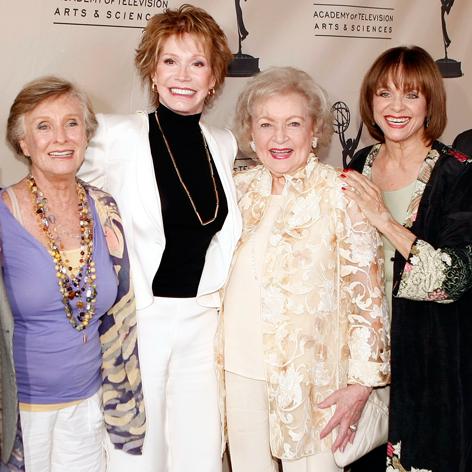 Valerie Harper – who's graceful battle with terminal brain cancer continues to inspire her countless fans – will reunite with several of her former cast mates from the legendary 70s sitcom, The Mary Tyler Moore Show, for a special episode of Hot in Cleveland.
The beloved Rhoda star, 73, will join Mary Tyler Moore, 76, and Cloris Leachman, 86, as special guests on an episode of the hit TV Land sitcom, which stars two other Mary Tyler Moore Show cast alums -- Betty White, 91, and recurring guest star Georgia Engel, 64.
Article continues below advertisement
According to Deadline.com, which first broke the news, here's the plot: "Elka (White) and Mamie Sue (Engel) decide to get their bowling team, named GLOB: The Gorgeous Ladies of Bowling, back together. They reunite with former team members Diane (Moore), Peg (Leachman) and Angie (Harper). The quintet had a falling-out after their championship season went to their heads."
In addition to White, Hot in Cleveland stars Valerie Bertinelli, Wendie Malick, and Jane Leeves. The episode will tape April 5 at the show's studios in Los Angeles. There's no word on when the episode will air.
Although Moore has guest starred on Hot in Cleveland before, it's believed the episode will mark the first time the five ladies have acted together since The Mary Tyler Moore Show's iconic finale back in 1977. (Remember the group hug before Mary turned the lights out in the newsroom?)
As RadarOnline.com has previously reported, Harper announced on March 6 that she has terminal brain cancer.
Harper has a rare condition called leptomeningeal carcinomatosis, a rare condition that occurs when cancer cells spread into the fluid-filled membrane surrounding the brain.
She received the devastating diagnosis on January 15. Doctors told her she could have as little as three months to live.