WATCH: 'Good Morning America' Anchor Amy Robach Reveals Cancer Milestone -- Admits Some Days Were 'Much Harder Than Others' During Treatment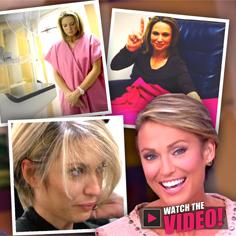 Article continues below advertisement
Having a "double mastectomy and 20 weeks of chemo is an uphill battle," Robach admitted, saying: "Every day is different, some much harder than the others."
Saying that "each round became increasingly more difficult," in her treatment, Robach celebrated that she has completed her eight rounds of chemotherapy.
"I was one of the lucky ones only losing about a quarter of my hair, but no one escapes the side effects. Both physical and emotional."
With her GMA coworkers by her side, Robach revealed: "This is a huge milestone for me and for anyone else that has battled cancer. I plan on living each day to the very fullest, thankful and grateful."
ABC US News | ABC Business News
Cheering on others diagnosed with cancer, Robach said " You can do it. You can get through this one step at a time. I am there for you. I am there for you.
"With my eight and final round of chemo complete I will start on a new journey."
She ended her remarks with "You can kick cancer's butt," and then joked with her co-workers, saying: "I actually wanted to say another word but they wouldn't let me!"
Congratulations to Amy for her milestone achievement.