It's Finally Over! Mariah Carey And The Dream Settle Battle With Oakland Songwriters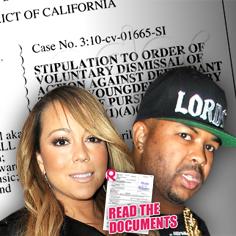 Mariah Carey can finally rest at ease after a more than three-year battle with two songwriters from Oakland, Calif. Preston Marshall and Demario Driver have agreed to settle their lawsuit against Carey and music producer Terius "The Dream" Nash that claimed the "Heartbreaker" singer and her producer had allegedly stolen one of Marshall and Driver's tunes, RadarOnline.com has exclusively learned.
Article continues below advertisement
In 2010 the Oakland-based songwriters accused Carey and Nash of stealing music from their 2008 song "Are You The One" for "Love vs. Money," which was featured on The Dream's album. Marshall and Driver sued the duo for $450,000 for copyright infringement.
Now, more than three years later, the parties have agreed to settle the suit. In February Carey came to an agreement with the two men to dismiss all claims against her. Per their agreement, each party would pay its own legal fees.
In April The Dream also settled with Marshall and Driver, agreeing to the same stipulations as Carey's settlement – that each party would pay its own legal fees.