Exclusive
EXCLUSIVE DETAILS & DOCUMENTS: Christina Milian's Divorce Settlement -- 'The Dream' Wants To Back Out Of The Deal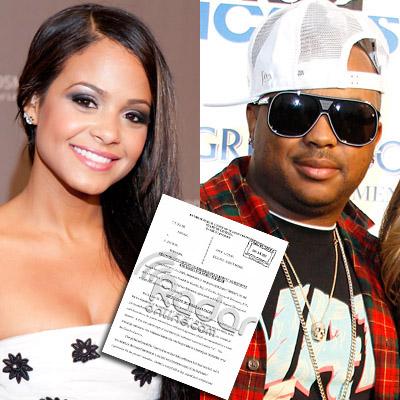 The divorce between pop star Christina Milian and "The-Dream" has turned nasty -- all because of Justin Bieber.
RadarOnline.com has exclusively learned music producer Terius "The-Dream" Nash wants to back out of an agreed deal with his soon-to-be ex-wife that would have given her 10 percent of his earnings on Bieber's hit 'Baby' -- which he co-wrote.
COURT DOCUMENTS: Read Christina Milian's Motion To Enforce Settlement Agreement
Article continues below advertisement
Now Milian has gone to a Georgia court attempting to have a judge enforce a settlement agreement the pair struck in October, last year.
In a letter sent to Milian's attorney Randy Kessler, dated January 13, "The-Dream's" attorney claims that the multi-million dollar producer acted in "good faith" in an effort to "finalize this matter in a manner that would allow each person to do so with dignity and grace".
PHOTO: Baby To Badass -- Justin Bieber Gets A Black Eye!
But that hasn't "been appreciated... we apparently do not have an agreement," the lawyer wrote to Kessler.
Kessler, who also represented Tameka Foster in her divorce from R&B star Usher, told RadarOnline.com in an exclusive interview -- "a deal is a deal."
"Justin Bieber is not the issue here... Ms. Flores simply wants Mr. Nash to adhere to what he previously agreed upon," he said.
Article continues below advertisement
According to the settlement transcript obtained by RadarOnline.com, Milian and "The-Dream" -- who filed for divorce nine days before Milian gave birth to the couple's daughter, Violet -- agreed to the following:
Visitation and parenting time with the couple's daughter will be negotiated by both parties, but the view and goal is to have Mr. Nash able to spend as much of the time as he wants with the child, up to 50 percent, as the parties can best work out
Milian will receive $10,000 a month in child support which includes a $6,500 a month payment and up to $3,500 a month for day care, nanny and private school
Milian will receive $3,500 a month in alimony for two years or upon remarriage or proof of a meretricious relationship with the opposite sex lasting at least 60 days
Milian will receive 10 percent of the Justin Bieber single, Baby
Milian will receive free and clear a Mercedes G55
Milian and Nash will keep their own possessions, jewelry, the gifts that the other one gave them, their personal effects and each will retain title to their businesses that they currently own and operate.
The pair agreed to the deal on October 26, last year, during a four hour settlement conference.
After hammering out the agreement, as outlined by a court reporter, Kessler asked both Milian and Nash: "Do you both agree that this is the final agreement between the two of you resolving all issues of your divorce?"
Both Milian and Nash stated for the record: "Yes."
Kessler has filed a motion with the court to enforce that settlement agreement, arguing Nash entered into an "enforceable agreement" as substantiated by the on the record transcript.
Kessler states, "in the event that there is an impasse, then this record may be used by the court to facilitate the enforcement of an agreement or as the agreement itself, whatever the court find appropriate."
"The-Dream's" attorney didn't dispute the statement at the time of the settlement discussions but did state, "I'd like the record to reflect that my client enters into this agreement freely and voluntarily. However, he enters into this agreement against the advice of counsel."
RELATED STORIES: