PHOTO: Baby To Badass -- Justin Bieber Gets A Black Eye!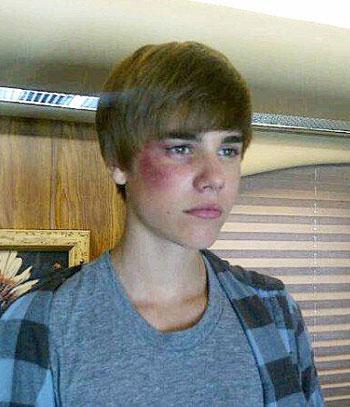 Justin Bieber goes from Baby to Badass after turning up on set with a black eye.
But fans don't need to worry about the teenage singing sensation, because it's only make-up for his role on TV drama, CSI.
RadarOnline.com has the photo of the star sporting a shiner and he even boasted about his new look on Twitter.
"On set...where? Let's say I'm back to my evil ways," he said before posting a picture of himself in his trailer.
Article continues below advertisement
But his beaten up appearance hasn't stopped his co-star Christina Milian from sharing her love with him.
Oh Baby! Justin Bieber Makes Out With Fan In Toronto
"I just stole a kiss from @justinbieber," she wrote on her own Twitter page before begging fans not to be jealous of her.
"Ladies, don't be mad...gents don't hate :) lol, all love! :)"
Bieber has a guest spot on the hit show and will reprise his Jason McCann character on an episode in February.