Exclusive
'Teen Mom 2' Star Chelsea Houska Demands Stricter Custody Agreement With Baby Daddy Adam Lind After He Gets Arrested Again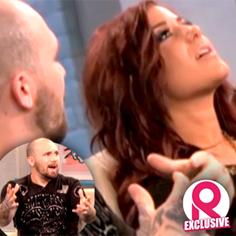 Teen Mom 2 star Adam Lind was booked earlier this month after he was arrested for driving with a revoked driver's license — and now RadarOnline.com is exclusively reporting that his ex baby mama Chelsea Houska wants to change their custody situation as a result.
"Chelsea hasn't talked to Adam since he got released from jail," a source told Radar, adding that she's eager to make some changes to their custody agreement.
Article continues below advertisement
"Chelsea and Adam are going to have to go back to the lawyers and stuff for sure to figure out a new agreement," the source said. "Chelsea hasn't talked to her attorney yet, but she is going to set up a meeting within the next week or so."
As to the arrest, the source was not shocked to see Lind locked up again.
"I'm not surprised that Adam go busted again," the source said. "He drives all the time. It was just a matter of when he would get caught."
The source continued, "It seems like he will never learn. You'd think facing a significant amount of jail time, during which you probably won't be seeing your kids, would be enough to make you follow the law."
PHOTOS – Check Out Adam Lind's Shameless Gym Selfies!
Besides not talking to Houska, Lind also hasn't been present in his daughter Aubree's life for weeks.
"Adam hasn't seen Aubree since he got out of jail," the source said. "It was his visitation weekend when he got arrested and he obviously didn't see her."
Article continues below advertisement
Before the arrest, he hadn't seen Aubree either.
"And Chelsea had her for two weekends before the arrest because one was Mother's Day," the source said.
"Adam hasn't asked to see her since he got out," the source said, adding, "So it's been about a month since he's seen her or anything."
The source continued to say "it's not surprising" that Lind has been acting this way.
In fact, Lind is known to not follow the rules and his recent arrest makes Houska worried that when on the fleeting occasion that Lind does have Aubree, he lets him ride in the car with him, even though he's not supposed to.
"Aubree isn't allowed ride in the car with Adam," the source said. "That stipulation is in Chelsea and Adam's visitation agreement and he has a revoked license so it's against the law."
Houska knows that she can't control Lind's actions.
"Seeing how Adam thinks he's above everything, it makes Chelsea very nervous when Aubree's over there because it's out of her control," the source said.
"Visitation is supposed to be under the supervision of Adam's parents, but I don't think they take it seriously either and let him take her when he pleases."