Crapped Out! Irate Jennifer Garner Cancels Summer Family Plans After Ben Affleck's Latest Gambling Fiasco, As A-Lister Is Kicked Out Of Another Casino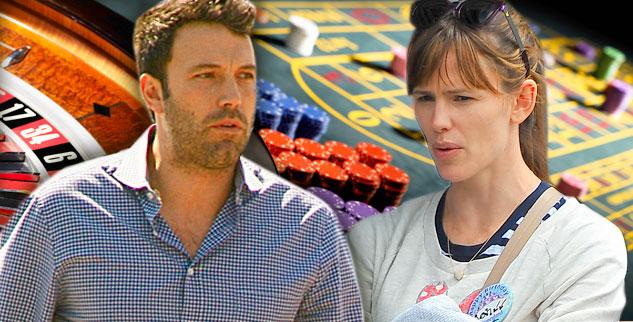 Ben Affleck has been keeping busy during his summer stay in the Midwest.
Filming is underway for the newest installment of Batman v Superman: Dawn of Justice, but when Affleck isn't on the Detroit, Michigan set he's spending the rest of his time at the local casinos betting for hours and it's costing him the other most important thing in his life -- his family.
According to Star magazine, Garner is fed up with her husband's gambling ways and the latest headlines have tipped her over the edge.
Article continues below advertisement
Just two months ago the Oscar-winner was red-flagged and under investigation by Las Vegas' biggest casinos for card counting, Affleck's reputation has preceded him over the border.
On May 31, he was spotted at Caesars Windsor Hotel and Casino in Windsor, Ontario, just 10 minutes from downtown Detroit, where as Radar reported exclusively Affleck has been gambling $5,000 hands at the high roller table.
"Ben walked in and went straight to the card games," an eyewitness in Ontario told the mag. "His hair was a disaster, and he looked like a mess! He sat down and played for roughly 20 minutes before security heard he was there. They made the dealers stop what they were doing and asked him to leave. Ben seemed pretty mad."
Another eyewitness at MotorCity Casino Hotel in Detroit noticed the 41-year-old on May 24 at 2 p.m. not looking his movie star best.
Article continues below advertisement
"It took me a minute to realize it was Ben Affleck," a second eyewitness told Star. "He looked disheveled and upset while sitting there gambling. He seemed really frazzled like he had just lost a ton of money. He was smoking a cigarette and his head was down in his arms. When he sat up his eyes looked bloodshot, like he'd been there all night!"
And his wife of nine years is putting her foot down.
"Jen canceled her trip. She just doesn't want to be Ben's enabler or babysitter," a source told the magazine about the family's intended summer trip to Detroit. "She was absolutely mortified about the Las Vegas incident, and everything has really gone downhill since then.
"She's completely distraught over Ben's problems. It's a never-ending roller coaster."
The Argo director checked into rehab in 2001 only to fall off the wagon nine years later. And today, his latest habit has some around him questioning if he needs to seek treatment for a gambling addiction.
"Ben has a compulsive personality," added another source. "Once he starts gambling, he can't stop ­ and he stays up all night, betting thousands, then sleeps all day, which infuriates Jen.
"He needs to ask for help from someone -- and soon."