Exclusive
Does Jennifer Garner Know? Ben Affleck Betting $5,000 Blackjack Hands In High Roller Rooms While Filming 'Batman' In Detroit -- INSIDE His Habit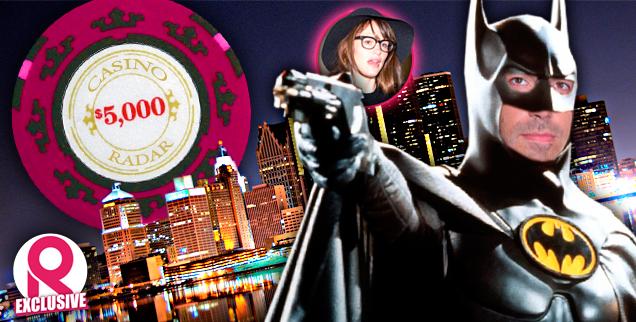 What happened in Vegas didn't stay in Vegas for Ben Affleck, when the actor was red-flagged at Sin City casinos for card counting. But RadarOnline.com has learned he hasn't been limiting his play to the Nevada gambling mecca: While filming Batman Vs. Superman in Detroit, Affleck has been flying solo at nearby resorts during his time off, in order to satisfy his gambling need.
An insider tells RadarOnline.com that Jennifer Garner's husband has been spotted at both the MotorCity Casino and Greektown Casino-Hotel in the Michigan capital.
Article continues below advertisement
And the multi-millionaire isn't playing with small change.
"He only uses $500, $1,000 and $5,000 chips," the source claimed.
Matt Damon & Ben Affleck: Boys Poker Night
With that kind of cash at stake, the movie star is always being watched vigilantly.
"There's a security guard who stands behind him to watch and protect him," added the source. "But it's not his own personal bodyguard, it's the casino security."
Article continues below advertisement
Does Affleck's wife, Garner, know what he's been getting up to while he's out of town?
Affleck has been in serious monetary hot water before after he lost $400,000 to movie mogul Ron Meyer in one game as a member of the notorious Hollywood secret poker ring.
But, this time, so far luck has been on his side.
"He was actually up and winning money," during his time at MotorCity, the source said. "And he was good about tipping the dealer.
How much?
"Hundreds of dollars," added the source.
It obviously pays to wear the Batsuit!
Do you think Garner should be concerned? Or is his gambling harmless fun? Let us know in the comments!