Humanitarian Angelina Jolie Banned From Entering Sudan, After Her Visa Is Denied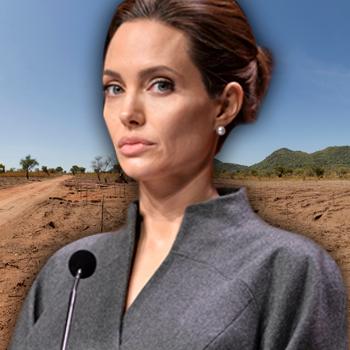 A-lister Angelina Jolie was prevented from entering Sudan by via authorities in the Arab republic, as she attempted to enter to attend a civil society event in the country's capital of Khartoum.
The Tomb Raider star's absence was confirmed Friday by Peter Tibber of the British embassy in Sudan, after she was slated to appear at a summit there, according to local media.
Jolie, a goodwill ambassador for the United Nations, did lend her presence at the event in a video, where she criticized Sudanese President Omar al-Bashir and his administration for their death sentence of Meriam Yahya Ibrahim, a Christian woman who would not renounce her religion, and was subsequently convicted of apostasy, with the grave implications.
Article continues below advertisement
"Khartoum should respect the fundamental right to freedom of religion, and to repeal its laws that ban people from converting their faith, as they are inconsistent with its 2005 Interim Constitution, the Universal Declaration of Human Rights, and the International Covenant on Civil and Political Rights," Jolie said in the clip.
The outspoken actress also took exception with what she said was a disproportionate amount of wealth and power among Sudan's political elites.
"They steal wealth, then fund the Janjaweed, the internal security organs, and the Sudanese Air Force, and ensure that those brutal instruments of control are held by a small circle of ruling party officials," the Maleficent star said in the taped clip.
Earlier in the week, Jolie lent her presence to a conference in London dedicated to the prevention of wartime rape. Jolie is no stranger to international political activism, also having devoted years to causes in Sudanese areas such as Darfur and South Kordofan.