Brad Pitt & Angelina Jolie Take Australian Theme Park For A Ride — Stiffed Wildlife Foundation On Donation!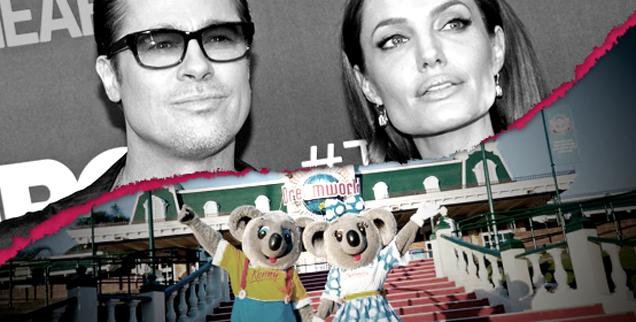 This isn't what you'd expect from a philanthropic couple like Brad Pitt and Angelina Jolie!
According to a report from Down Under, the stunning A-list couple was granted exclusive after-hours privilege to Australia's Dreamworld theme park four times during their stay in exchange for a donation to their Wildlife Foundation — a donation that never materialized.
Australia's Courier Mail reports that Brangelina's camp agreed to support the foundation with a donation, but fast forward five months and there's still been no money seen.
Article continues below advertisement
Dreamworld management refused to comment, but park officials told the outlet that thousands of extra dollars were spent on the staff who had to work late to accommodate the family's after-hours visits.
However, it's noted that Pitt and Jolie may have been unaware of the promise made by their camp to make a donation to DWF.
The Brangelina brood accompanied Jolie to Australia where she was directing her new movie, Unbroken.
Among other outings they took: shopping malls, roller rinks and art galleries, all of which were required to sign six-page confidentiality agreements
The site reports that Pitt and Jolie's children visited the Dreamworld theme park twice with family assistants and twice as a whole family in Oct. and December.
"We can't comment in relation to the arrangement with the family," a Dreamworld spokesperson said.
"By all accounts from staff present during their visits, the family had a fantastic time and were grateful to spend the time just having fun as a family."
Both Pitt and Jolie are well known for their humanitarian work, including founding Make It Right to build homes for those displaced by Hurricane Katrina and being a United Nations High Commissioner for Refugees ambassador, respectively.