Angelina Jolie Bares It All: Reveals Her Vial Of Blood Wasn't Rebellion, Never Thought She'd Fall In Love Before Brad Pitt And Shiloh Rejected Maleficent Movie Role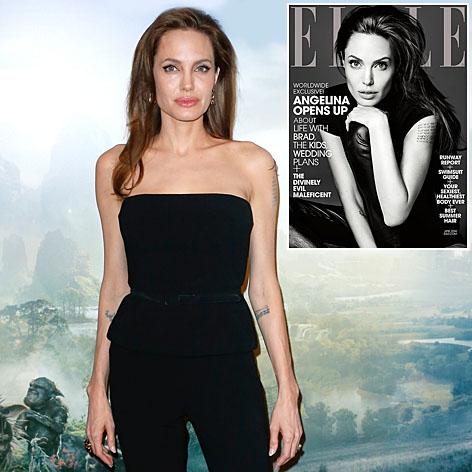 Article continues below advertisement
But she fell in love with Jennifer Aniston's husband while filming Mr. and Mrs. Smith and they now have a hectic life with six children together.
"You get together and you're two individuals and you feel inspired by each other, you challenge each other, you complement each other, drive each other beautifully crazy," she said about Pitt.
"After all these years, we have history—and when you have history with somebody, you're friends in such a very real, deep way that there's such a comfort, and an ease, and a deep love that comes from having been through quite a lot together."
Appearing in the Disney live action film Maleficent, Jolie explained why her youngest daughter got the role.
"For young Aurora, they needed a child who wouldn't be fazed by the Mistress of All Evil hissing 'I don't like children' in her face. And my little Vivienne—we call her my shadow, because there's nothing I can do to shake her. I can be tired, I can be grumpy, I can be in a terrible mood, and she doesn't care. It's 'Mommy, Mommy,' and she'll cling to me.
Article continues below advertisement
"We knew that she would still do that thing, she'd still smile at me and insist that I pick her up. So we couldn't really cast anybody else."
However, while Pax and Zahara appear in the film, Shiloh said no way.
"I asked Shiloh about being Aurora, and she laughed in my face. She said she'd be a horned creature."
Even though Jolie followed her father into acting, she would prefer if he children did something else.
"After two days of it, Brad and I were so stressed we never wanted to do it again."
Jolie said her questionable actions in her 20s – French kissing her brother and wearing a vial of Billy Bob Thornton's blood around her neck – were "misinterpreted as me wanting to be rebellious."
Reflecting on her youthful antics, Jolie said: "And in fact it wasn't a need to be destructive or rebellious—it's that need to find a full voice, to push open the walls around you. You want to be free. And as you start to feel that you are being corralled into a certain life, you kind of push against it. It may come out very strange, it may be interpreted wrong, but you're trying to find out who you are."
Article continues below advertisement
She told Elle that she had a fear "of a life half-lived. I realized that very young—that a life where you don't live to your full potential, or you don't experiment, or you're afraid, or you hesitate, or there are things you know you should do but you just don't get around to them, is a life that I'd be miserable living, and the only way to feel that I'm on the right path is just to be true to myself, whatever that may be, and that tends to come with stepping out of something that's maybe safe or traditional."
The full interview can be found exclusively in ELLE's June issue, available on the digital newsstand now, and on newsstands in select cities starting May 13, and nationwide on May 20. For more exclusive sneak peeks throughout the month follow @ELLEmagazine on Twitter and @elleusa on Instagram.