Exclusive
'Her Light Touched Us': Inside Angelina Jolie's 'Dangerous' Visit To Syrian Refugee Camp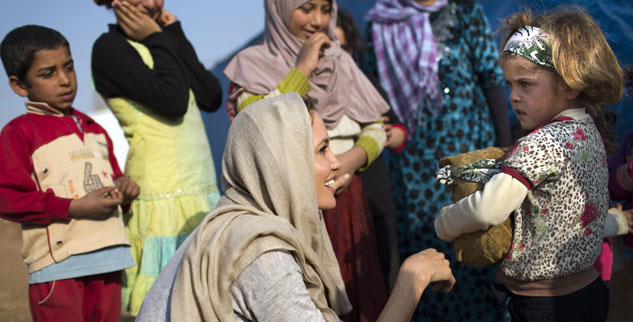 Just days after Angelina Jolie strutted the red carpet at the BAFTA Awards in Los Angeles, she was hurtling down a dirt road in the war-torn Bekaa Valley of Lebanon, on her way to meet with Syrian refugees. Despite the fact that a suicide bomber had recently exploded at a checkpoint in the region, killing several civilians and putting the area's stability into even more jeopardy, the actress and humanitarian honored her commitment to tour the camp -- and the refugees there will never forget it -- even though they had no clue who she was!
Article continues below advertisement
Jolie's visit was fraught with peril from the start, an insider tells Radar. "Besides the suicide bombing, there was also a bombing just this past Wednesday near an orphanage in Beirut that killed more than 11 people and injured over one hundred," the source explains. "The area is really in tumult."
In addition, the source says, "Angelina took literally one of the hardest roads to get to the camp. It's full of mud and dirt, and the camp is pretty distant from Beirut."
Once there, the source says, Jolie spent "quite a while" in one tent that belonged to a family of parentless teenagers and infants. One family of seven saw their mother shot last year, and their father is still missing.
''Meeting these children was a heart-rending experience,'' Jolie said in a statement afterwards. ''They have lost their families and their childhood has been hijacked by war. They are so young, yet they are bearing the burdens of their reality as if they are adults.''
Article continues below advertisement
But the refugees "had no idea who Angelina was or what she does," the source tells Radar. "They just said they could feel her warmth. One said, 'Her light touched us.'"
Accompanied by a translator, "Angelina asked them about their needs and what they would like to have. They requested food: a bit of rice and bread. And maybe some mattresses."
"The living conditions of these refugees are horrible," the source says, "and it meant a lot to them that Angelina took time to ask how she could make things better."
Wearing a traditional beige abayaa and a beige wool scarf, Jolie covered her face most of the time when reporters were around, the source says, only allowing her team of two foreign women to photograph her. Her translator was female as well.
Back in the capital city of Beirut, "Angelina stayed at the Grand Kadri Hotel," the source reveals. "There were a lot of security measurements for her visit that made people think that a president was there. They even closed all the roads leading to the hotel!"
Jolie didn't bring any of her children with Brad Pitt on the visit, the source reveals, explaining, "I think she knew how unpredictable the situation there is."
This counts as Jolie's third visit to Lebanon, and her first since September 2012. The country is currently hosting more than a million Syrian refugees -- more than 25% of the country's normal population of 4 million.
Jolie spoke to the nation's generosity in hosting the Syrians during her stay, announcing, "The Lebanese people are dealing with their own problems. It's all the more meaningful that they are so generous and kind, and I hope that the world acknowledges that."